We Will Tell You Anything That We Are Legally Able to; Jonathan Daggerhart | FLDC
As you know, TDT has been interviewing some very cool Drupal people. But a part of this 'coolness' is associated with more than just their careers. Florida DrupalCamp is here, and as TDT is an in-kind sponsor, we took this opportunity to speak to the FLDC session speakers and converse with them about the values and life lessons they have most definitely shed some light upon.
Daggerhart lab focuses on sustainability. What does this mean? The mission of the Daggerhart Lab is "To build a better, sustainable, and more equitable web development company." According to Jonathan Daggerhart," sustainability requires a holistic view of the company. Fair payment, happy clients, and being proud of your work is what that Daggerhart lab is about and more." 
Alethia Braganza, sub-editor at TheDropTimes (TDT), reached out to Jonathan via slack and carried out a written interview, sending in a set of questions via email.
Jonathan Daggerhart is the lead developer at Daggerhart Lab. In this interview, you will have the opportunity to read about his journey with Drupal, what WordPress is good for, and why he started his Youtube Channel in 2015.
TDT [1]: Can you briefly introduce yourself and your journey with Drupal?
Jonathan Daggerhart: I'm Jonathan Daggerhart, and I've been building websites since the mid-90s (8th grade). Before websites, I was a big fan of BBSes and made many attempts at running my own. I stumbled onto Drupal around 2004-5 with version 4.5.something while looking for a replacement for E107 and PhpBB. Drupal had a forum module in core, so I went with it. Since then, I've been a professional web developer.
TDT [2]: You've worked as a Drupal and WordPress developer for a long time. What are some of the most notable distinctions you've come across? Are they both capable of doing the same level of work? If someone wants to utilize Drupal or WordPress, what would you recommend if they are looking for a specific feature?
Daggerhart: The most notable distinction between WordPress and Drupal is the communities' cultures. They differ in many ways, but most specifically, the communities' acceptance (or not) of paid extensions in the marketplace. And a close second is that maintaining a Drupal website costs significantly more than a WordPress site. Drupal has historically been developer-focused software, while WordPress has been user-focused. Both are generally capable of doing the same things but have strengths and weaknesses.
My go-to explanation is that Drupal is good at "data," and WordPress is good at "content." If you're building a data-heavy site, for example, a website that tracks sports statistics, you will want Drupal 100% of the time over WordPress. If you are dealing with a lot of complexity around workflows, access control, and integrations, Drupal will be a better fit.
WordPress (plus some plugins and the right base theme) is a great way to give clients control over their website's content (and more) on a reasonable budget. Its content editing tools are significantly better than what we've seen in Drupal, and they make decisions about the software that attempt to benefit users over developers. My personal websites are WordPress. If I were to develop a Saas offering, intranet, or large community site, I would choose Drupal.
That said, I think there is also a place for Backdrop CMS in this discussion. If someone needs a complex site and all the features Drupal core offers but they have a limited budget, then I think Backdrop should be in the conversation. As a developer, I don't want to find myself or my team in a position of trying to make WordPress do things that Backdrop already does with a limited budget.
TDT [3]: You started your Youtube channel in 2015; what is the focus of your content? And who is this directed towards?
Daggerhart: My blog posts and YouTube channel tend to attempt the same thing: "explaining complex ideas simply," often through analogy. My target audience is always either past-me or future-me. For past-me, I'm trying to create the content I wish existed when I was trying to learn something complicated or mysterious. For future-me, I'm trying to provide a reliable source for questions that I come up against time and time again.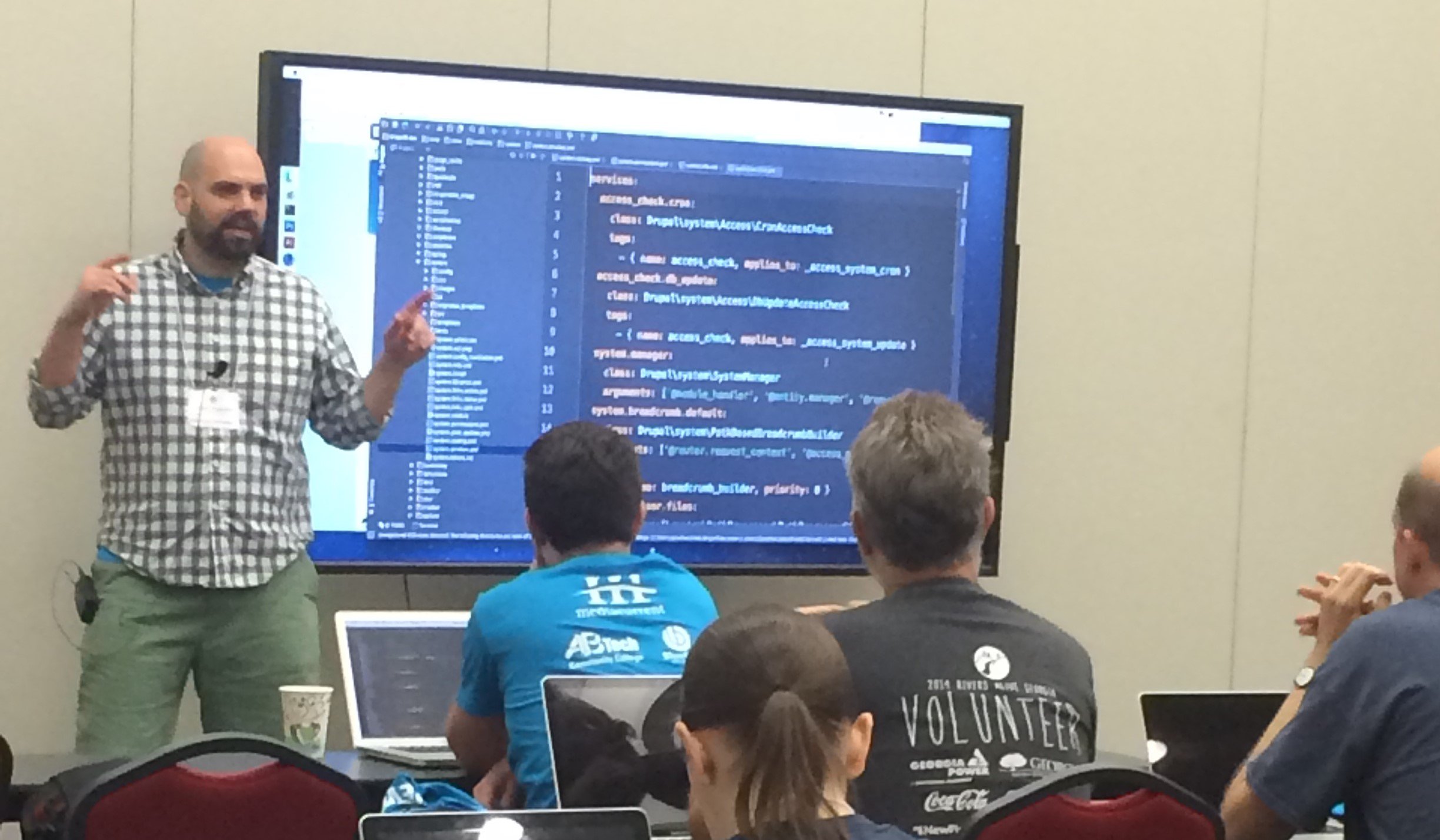 TDT [4]: You are the lead developer at the Daggerhart Lab. "To build a better, sustainable, and more equitable web development company" is the mission of the Daggerhart Lab. What does it mean to be sustainable in web development? What is the focus of sustainable web development?
Daggerhart: Great question. In this context, I believe sustainability requires a holistic view of the company. Being sustainable means all of the following things:
Employees and contractors are paid fairly and are proud of their work.
Clients are happy and easy to collaborate with.
Daggerhart Lab is making enough money to comfortably keep going if something changes.
The difficulty in this form of sustainability for a services company is in balancing the incoming work pipeline with the available resources to perform that work. We practically never ask anyone to work overtime or on weekends because doing so impacts their happiness and, thus, sustainability. If a client is often rude or mean to our team, we send them on their way for the same reasons. There is no place at Daggerhart Lab for bad clients.
Maybe "happiness" is not the right metric to measure someone's work life; "low stress" might be better. It should not be stressful or painful to come to work, and ideally, the quality of our work is on display at all times for the client, showing that we are here to support their goals.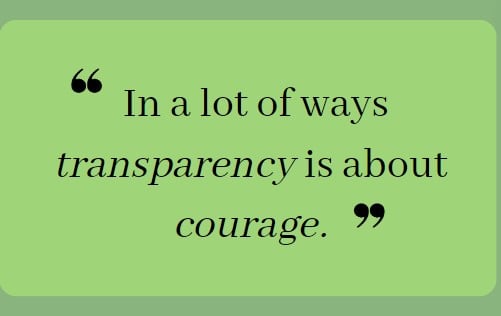 TDT [5]: Transparency is the word of the 21st century. What does transparency in technology mean to you, and how can a veteran and newbie start looking and practicing this term?
Daggerhart: In many ways, transparency is about courage—the courage to display and discuss your decisions with everyone. Historically companies leverage secrecy to extract labor and money from their employees. The easiest example to look at is employee pay.
Employee pay is a secret at companies because employers are often afraid and cynical. They are worried that if employees find out that they are making less money than someone else for the same work, they will ask for more money. Understandably, people would want to make the same amount of money as someone else doing the same work.
We address this type of fear and cynicism with transparency. We currently have 3 tiers of employees (roughly equivalent to Jr, Sr, Staff roles), and these three tiers pay the same amount across the board. Everyone on the team knows the tier of each employee, so everyone knows how much everyone else makes. We also take transparency much further than that. At company meetings, we go over the company finances, and employees are encouraged to ask any questions they have. Our perspective is firm, "we will tell you anything that we are legally able to tell you."
Another reason we consider transparency a cultural pillar of our company is to encourage diversity. Our experiences have taught us that almost every company has disparities in employee pay based on biases (conscious or otherwise) of people doing the hiring. By being transparent about our pay structure, we are removing the negotiations and decisions around the amount of pay in hopes of avoiding those mistakes of bias.
Veterans and newbies can start participating in transparency by noticing what is being kept secret around them. Not just from them, but what are they withholding from others? Once you identify these opaque aspects in your life, ask yourself, "who benefits from this information being secret" and "do I have a defensible reason to hide this from people?". It won't take long for you to start thinking deeply about your own fears and cynicism and questioning where they come from. Who knows, you may find through introspection that your fears around transparency were put on you by a previous employer that was financially benefiting from that position.
TDT [6]: You're one of the organizers of DrupalCamp Asheville, which will take place in July. Can you tell us about your role as an organizer and the camp's goal this year?
Daggerhart: As a Drupal Camp Asheville organizer, my goal is to support April Sides in any way I can. She does most of the heavy lifting for the camp. I mostly maintain the website, hosting, and other services used in running the camp. We hope Drupal Camp Asheville is a relaxing and chill atmosphere each year. We enjoy seeing our friends in the community and learning new topics everyone is excited about. Drupal Camp Asheville prides itself on this vibe, so we encourage first-time or infrequent presenters to try their presentations out with us. Generally, our goal is to encourage people who use Drupal. We encourage them to learn and try new things, step out of their comfort zone and try their new material on us, and meet the nice people we enjoy spending time with within our community.
TDT [7]: Bringing the focus to the upcoming Florida Drupal Camp, could you brief us on your training session?
Daggerhart: It will be the fourth time I've given a presentation titled "Intermediate OOP in Drupal." It gets more fun and exciting each time as I try new ways of presenting the material. The presentation aims to help demystify the jargon and concepts around object-oriented programming. It's not just a "do-X" type of lecture where I list best practices without context; rather, I hope to explain "why" people do-X so that we can build an understanding of OOP on top of the attendees' current knowledge.
My reason for giving the training aligns exactly with that of my YouTube channel and blog posts; I wish this was a training I had access to when I was learning OOP development. I would consider the training a success if the attendee walked away with a new way of looking at the code they write and the vocabulary they need to learn more about OOP concepts. We cover everything from basic data types to concepts such as Composition vs. Inheritance and everything in between (as time allows).
TDT [8]: What are you most looking forward to at FLDC 2023?
Daggerhart: I'm really looking forward to seeing my friends in the community at Drupal Camp Florida. People love coming to Florida during the winter, so the attendees are often from all over the country or further. Attending events like this camp is how we build relationships and expand our network to find new business connections, developers, and friends. Some of the nicest and smartest people I've ever met attend this camp, and it's always great to hang out with them and talk shop. If you've ever considered attending a Drupal Camp but don't know which is right, I invite you to try FLDC and DCAVL. We maintain a very chill, welcoming, and fun environment where we just happen to talk about Drupal a lot.
Note: The vision of this web portal is to help promote news and stories around the Drupal community and promote and celebrate the people and organizations in the community. We strive to create and distribute our content based on these content policy. If you see any omission/variation on this please let us know in the comments below and we will try to address the issue as best we can.