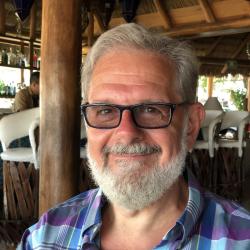 From LinkedIn profile:
John is a senior level developer, with over ten years experience with CMSs and Open Source communities, specifically Drupal. John's focus has been with database applications, historically on the desktop, now in the cloud. John's customer support skills have made many customers think creatively about the use of technology, while easing their minds about the technical ones and zeros, helping them to take ownership of their data. John has a multitude of experience when it comes to "rescuing older Drupal sites", and bringing them up-to-date with Drupal best practices, administrative training, and security.
From Drupal.org profile:
I'm a "seasoned" IT professional, with over thirty years of application development and database experience. Moving to the web in 2008 with Drupal 6, and starting a Drupal shop - CLoud NYNE Design - with my partner Erik Baldwin (BLadwin), my focus is all things back-end, from advanced site building, custom module development, and LAMP/server configuration and support. I'm also very committed to the Drupal community, having helped start the FL Drupal Users' Group and been an organizer for over 10 of their camps.
Drupal Contributions:
Founding member of the Florida Drupal Users Group