Dries Buytaert Acknowledges Top Drupal Contributors
Dries Buytaert, founder of Drupal did an in-depth analysis of the Drupal development sponsors and contributors for the period July 1, 2020, to June 30, 2021. He ranked organizations by what he called 'weighted' contributions and 'unweighted' contributions.
Unweighted Contributions, Dries based solely on the volume of contributions while for weighted, he took into consideration the effort and impact of each of the contributions. For the weighted ranking he considered each credit based on the adoption of the project the credit is attributed to. For instance, for Drupal Core, each contribution credit gets a weight of 10. The calculation is based on the fact that Drupal Core has I million active installations. Another example is, say a contributed module that has 450,000 installations get a weight of 4.5.
Dries gave the top weight score of 10 to strategic initiatives without considering whether it was developed in Drupal Core's Git repository or in a Drupal sandbox. Based solely on the volume of contributions, he also gave unweighted scores taking into consideration the effort and impact of each contribution.
Dries considered both Drupal company contributions and individual contributions.
Top Drupal Service Providers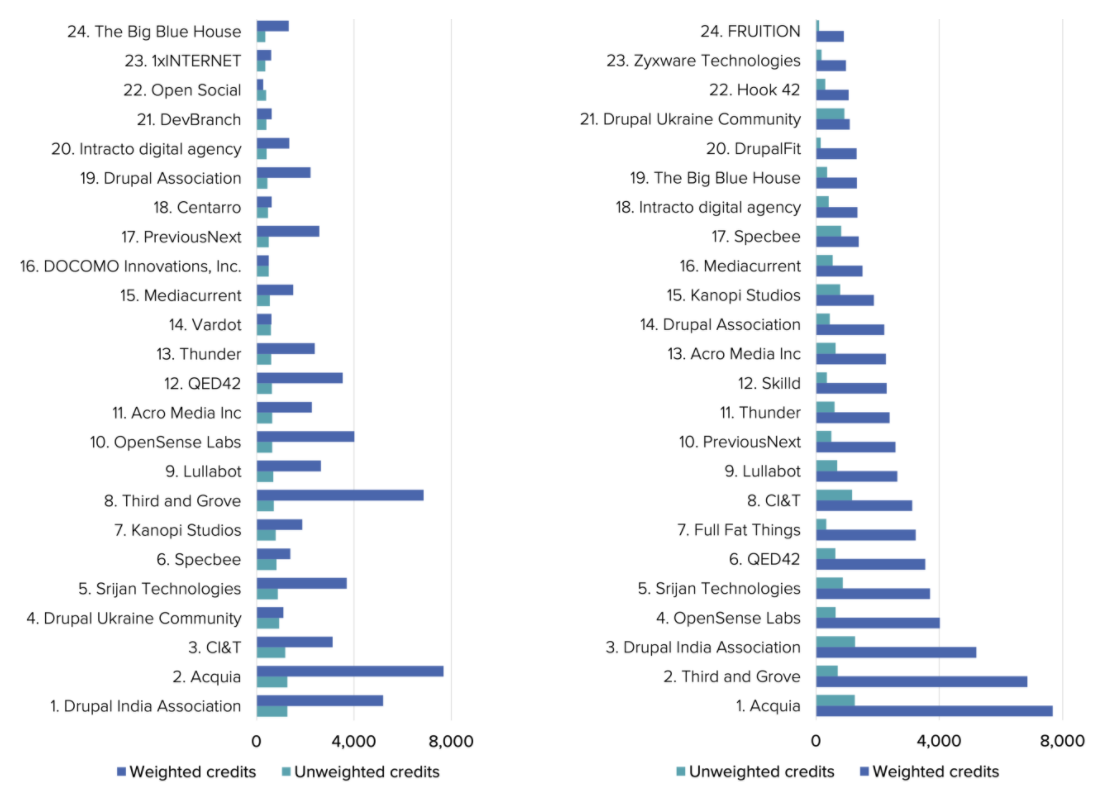 In the company contributions, Drupal service providers came in the small to medium-sized business with employee strength less than a hundred. Among the top twenty countries contributing to Drupal, Unites States, India and the United Kingdom seemed to lead the pack.
From the US, Acquia, Third Grove, Lullabot, Kanopi Studios and Mediacurrent were the top five Drupal agencies. From India, OpenSense Labs. Srijan Technologies, QED42, Specbee and Zyxware Technologies were the top five Drupal agencies. Dries endorsed the top twenty Drupal contributing companies as the best possible Drupal Service providers. Dries Buytaert said,
" If you are an end-user looking for a company to work with, these are some of the companies I'd work with first. Not only do they know Drupal best, but they also help improve your investment in Drupal. If you are a Drupal developer looking for work, these are some of the companies I'd apply to first."
Top Individual Drupal Contributors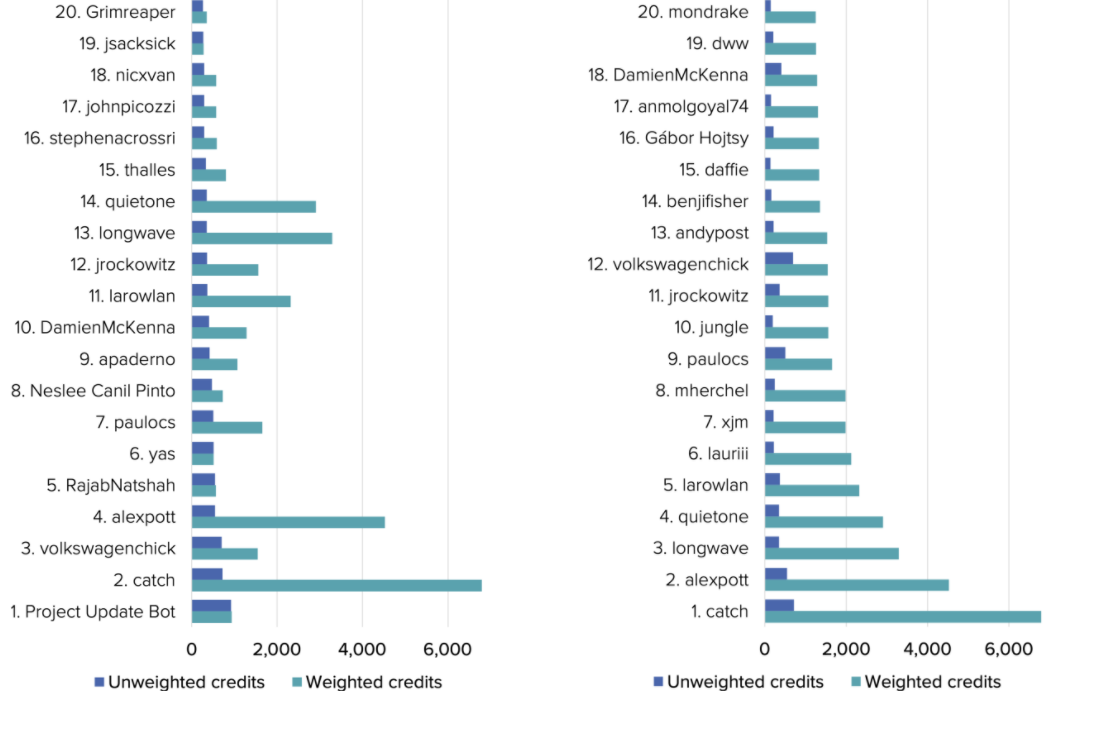 Dries Buytaert acknowledged the top individual Drupal contributors both in the weighted and unweighted categories. Drupal members with the usernames Catch, Project Update Bot, Alexpott, Volkswagenchick, and Longwave were the top individual Drupal contributors in both the categories put together. When people contribute to Drupal, their work can be tagged as volunteer contributions or sponsored contributions. Contributions can be marked both volunteer and sponsored at the same time if they are doing paid work for a customer while still using some unpaid time to add the extra input.
While there were quite a few digital marketing agencies, system integrators, hosting companies that used Drupal in their business, Dries found that most of them barely contributed to Drupal.
Dries did acknowledge that the credit system devised might not be capturing all the contributions made to the Drupal community. Dries Buytaert concluded pointing to the fact that data confirms that Drupal is a vibrant community full of contributors who are constantly evolving and improving the software.
Note: The vision of this web portal is to help promote news and stories around the Drupal community and promote and celebrate the people and organizations in the community. We strive to create and distribute our content based on these content policy. If you see any omission/variation on this please let us know in the comments below and we will try to address the issue as best we can.