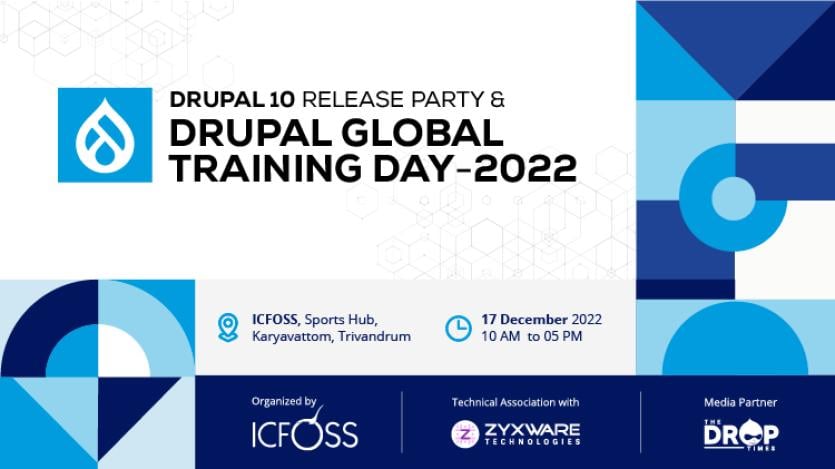 Description
ICFOSS in partnership with Zyxware Technologies and The Drop Times is organizing Drupal 10 Release Party & Drupal Global Training Day on 17th December 2022 from 10.00 am to 5.00 pm, at ICFOSS, Sports Hub, Karyavattom, Trivandrum.
Drupal 10 release party
Drupal 10 is a much awaited major upgrade to Drupal with tons of new features - including fully accessible themes, CKEditor 5 and much more. The release is planned on December 14, 2022 in the US. Drupal enthusiasts across the world are going to celebrate the release with sessions on the new features of Drupal 10 over its predecessor.
Come let's join the celebrations!
Drupal Global Training Day
Drupal Global Training Days (GTD) is an initiative of the community to introduce people to Drupal. The objective of Drupal GTD is to teach Drupal basics and about the community. Participants will leave with an understanding of what Drupal is and how to get started with the digital experience platform, and the community behind it. The workshop will be hands-on and the participants will get the opportunity to experience Drupal from the professionals in this area. Participants will also learn how to join the Drupal community, make contributions there and network within the same.
Event details
Date : December 17, 2022, Saturday
Time : 10:00 AM - 5:00 PM
Venue: ICFOSS, Sports Hub, Karyavattom, Trivandrum
Programme schedule
Morning Session (10:00 AM - 1:00 PM)

Inauguration and Opening Remarks

Importance of Free Software

New features of Drupal 10

Drupal 10 release party

Introduction to Drupal

Afternoon Session (02:00 PM - 5:00 PM)

Drupal Workshop

Build a website in Drupal from scratch in 3 hours.

Create a profile in drupal.org and an introduction on how to participate in the community and contribute back.
Prerequisites for the workshop
The participants need to bring their own laptop with minimum 8GB RAM and a reasonably good processor. The selected participants will be informed about the software that needs to be installed in the system before the workshop.
Last date for Application: 15th December 2022
Note: Please note that the registration is limited to the first 40 participants, at free of cost.
Register here: https://www.thedroptimes.com/event/gtd2022-kerala/register
For more details of the programme, please contact +91 7356610110 | +91 2700012 /13 |+91 471 2413013 | +91 9400225962 | between 10:00-17:00 hrs for any further clarifications.
Organizer
ICFOSS (International Centre for Free and Open Source Software) is an autonomous institution under the Government of Kerala, mandated with the objectives of coordinating FOSS initiatives within Kerala as well as linking with the FOSS initiatives in other parts of the world. ICFOSS also strives to promote Kerala as a destination for FOSS based IT work including Open Source Hardware through creating critical mass of trained human resource and by providing mechanism for market interface.
Technical Partner
Zyxware Technologies is a Digital solutions company offering consulting, engineering, and quality assurance services through its engagements with clients since 2006. We operate in the USA, India and Australia and serve a global clientele.
Media Partner
TheDropTimes is a news website with the vision of contributing to the growth of a vibrant community of users and contributors around Drupal through the process of covering and promoting everything happening around Drupal.