D9 Localization Server Upgrade Initiative Status
Nicolas Loye and Marine Grandy will be presenting on December 8, 2022, at the San Francisco Drupal Users Group (SFDUG), "D9 Localization Server Upgrade Initiative Status: Taking Care of Drupal's Translation Tools". The event is from 5:30 to 7:00 pm PST.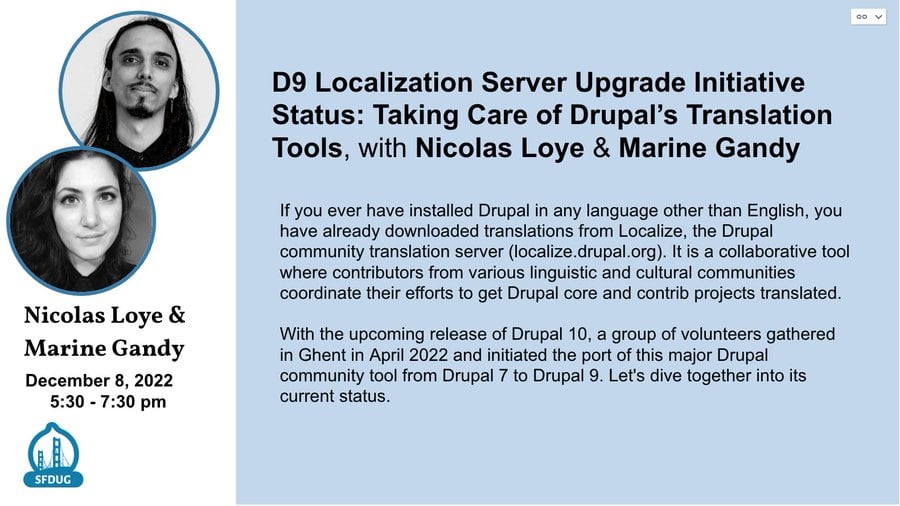 During the event, Nicolas Loye and Marine Grandy will present the D9 localization server upgrade initiative which is a translation server (also known as a 'localization' server) used by Drupal Community accessible at https://localize.drupal.org/, commonly referred to as "Localize" or simply "l.d.o".
The current platform is built on Drupal 7, and serves two main purposes:
It is a collaborative tool that contributors from various linguistic communities (or 'translation teams' on Localize) can use to get Drupal core as well as contributed projects translated, according to their own guidelines. Each team grants permissions using a system currently built with the Organic group.
Translation files can then be retrieved by Drupal installations on certain actions.
A team of volunteers at Drupal Dev Days 2022 in Ghent (Belgium) initiated the port of this major Drupal community tool from Drupal 7 to Drupal 9.
The San Francisco Drupal Users Group is a huge community of Drupal Users numbering 1,716 currently. An active forum that meets every month, they discuss and learn about Drupal and related technologies during these sessions.
Note: The vision of this web portal is to help promote news and stories around the Drupal community and promote and celebrate the people and organizations in the community. We strive to create and distribute our content based on these content policy. If you see any omission/variation on this please let us know in the comments below and we will try to address the issue as best we can.
Upcoming Events
8 Mar 2023 to 11 Mar 2023