DropTops of DrupalCon: Vox Populi from Delegates
As DrupalCon Pittsburgh 2023 kicked off, it became a vibrant platform for the community, luminaries, and experts to share their wisdom. From riveting keynotes that unveiled the future of Drupal to enlightening workshops that demystified complex concepts, the speakers kindled inspiration, sparking flames of curiosity and motivation in the hearts of all who listened—the Drop Times tried to arrest and document a few moments of glory to look back. Here are a few 'Drop Tops' straight from DC Pittsburgh 2023.
The Drupal Reach
Tamera Peake, Junior Web Developer at Webspec talks about the Drupal Reach and ever-learning environment. 
"I've met so many different people from all over the world... The lectures are great. It's introduced me to so many new concepts, some things I knew little about but did not know much about until now."
People Behind The Browser
Drupal is all about community, elaborates Paul Meyer, Director of Open Source Development at People First.
"I've been enjoying connecting with people in the Drupal Community, people who use Drupal, people who make Drupal, people who promote Drupal. It is a great opportunity to connect with the people behind the browser."
Women In Drupal
The room was packed full of Women in Drupal says Krista Brenner, Program Manager and Business Analyst at Agileana
"What can we do to promote women in Drupal? We talked about some pretty sad numbers of women graduating with Degrees in Computer Engineering and what we can do to help but also what we can do to help in the workplace."
First Time Contributors
Tim Erickson of Triplo LLC speaks to The Drop Times about the first-time contributor workshop at DrupalCon Pittsburgh. Tim explains how to begin contributing to Drupal and the best ways to start with.
"The main thing is people come into this room and want to help. They want to contribute. Contributing to Drupal can be intimidating. It is hard at first to make the first step. If you come to DrupalCon, there are mentors to help you through that first step."
Diversity at DrupalCon 
Albert Hughes, Technical Project Manager, Lullabot and a first-time speaker at DrupalCon, shares his DrupalCon experience with The Drop Times.
"It was really good to see a diverse group of people. I think this is one of the most diverse DrupalCons I've been to."
Community Engagement Activities at DC
Jon Meck, SVP of Marketing at Bounteous, talks about 'Drupalscope,' a community engagement activity at DC!
"We have seen a lot of people coming through. One of the things we are proud about is a great engagement called the Drupalscope built on Drupal personalized with Acquia creating fun readings for people..."
Open-source Ethos
Elliott Mower, Head of Product at Mediacurrent, talks about the company's open-source ethos at DrupalCon Pittsburgh 23. 
Neurodiversity at DrupalCon
"You don't need to learn about neurodiversity first; you need to learn about psychological safety first. You must learn to build trust with your team and demonstrate your willingness to support them..."
Says Fei Lauren, scrum master at Renesas Electronics, in her recent conversation with Aidan Dean Dunn. 
Fei Lauren, a passionate advocate for neurodiversity, presented at DrupalCon, emphasizing the value of inclusive leadership and the cost of excluding neurodiverse individuals from the workforce.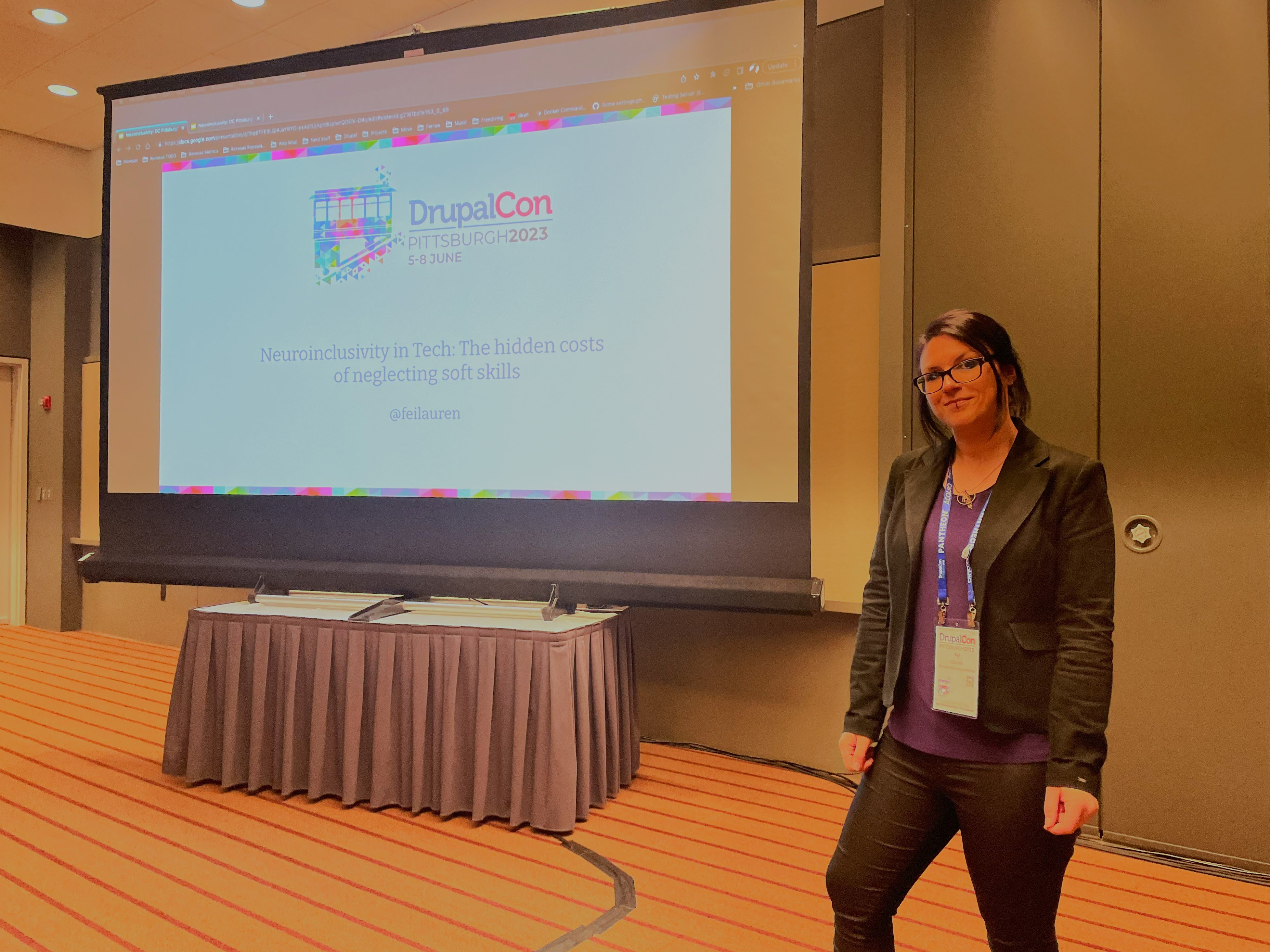 Fei firmly believes in the power of diverse thinking. She highlights the need for psychological safety, trust-building, and genuine support to create an environment where all individuals can thrive. Click here to read the entire interview.
Note: The vision of this web portal is to help promote news and stories around the Drupal community and promote and celebrate the people and organizations in the community. We strive to create and distribute our content based on these content policy. If you see any omission/variation on this please let us know in the comments below and we will try to address the issue as best we can.