On 21st June 2022 ONLYOFFICE released the first version of free ready-to-use integration app for Drupal. The module allows inserting and editing office files in posts and collaborating on documents in the Media module. It is important to note that this is only the first version of the module, further developments and improvements will take place.
Features of ONLYOFFICE Connector
1. Add Documents to Posts
When creating a post, you can add the new ONLYOFFICE element. You can insert office files of various formats in the embedded mode and your site visitors are able to view docs without downloading them.
2. Edit Office Files
To edit the document embedded in your post or even do it together with other authors, you can open DOCX, XLSX, and PPTX files uploaded to the Media module for editing by just selecting the Edit in ONLYOFFICE action in the operations menu. Users with the Administrator rights can also collaborate on documents and all changes will be saved in the same file.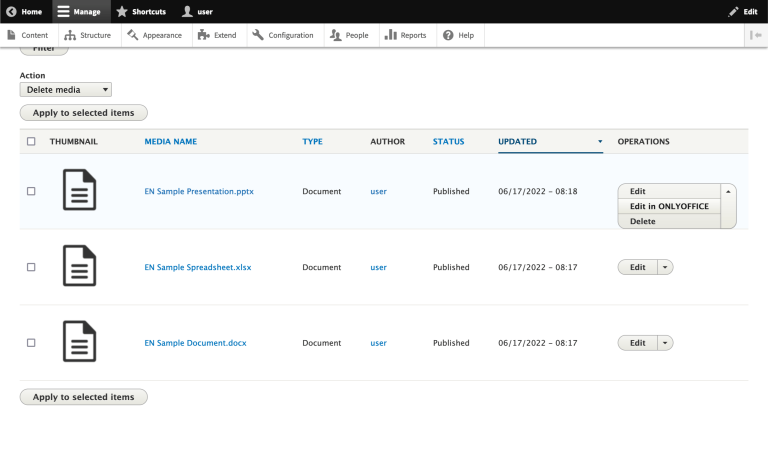 3. Install ONLYOFFICE Docs
You can work with office documents in Drupal by deploying a running instance of ONLYOFFICE Docs (Document Server).
ONLYOFFICE Installation and Configuration
You can get the ONLYOFFICE integration app from GitHub. The module is also available on the official Drupal website and GitLab.
To configure it, open the ~/config/system/onlyoffice-settings page in Drupal, switch to the administrative settings of ONLYOFFICE connector, and specify the following parameters:
The URL of the installed ONLYOFFICE Docs.
Secret key to enable JWT that protects your documents from unauthorized access. You also need to specify the same secret key in the ONLYOFFICE Docs config file to enable the validation.
Source: