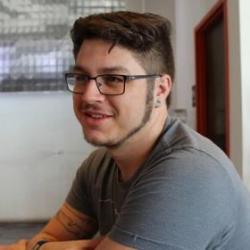 Matt Glaman of mglaman has been on Drupal for over 9 years with over 100 edits to documentation. He is a Principal Software Engineer in Acquia and is the Owner and Principal Consultant of Bluehorn Digital. He is a developer, themer, Drupal Commerce and Panopoly.
Matt is the author of Drupal 8 Development Cookbook and the creator/ maintainer of Contrib Kanban. He is currently working on a user interface for composer Conductor. Matt has written a plugin to run Drupal's test runner in PhpStorm. He has also contributed to Drupal Issue Tracking Chrome App, Contrib Kanban a site that provides kanban sprint boards for Drupal projects, responsive dropdown menus and commerce discount product category.
He has been a Contributed module, theme or distribution maintainer, project contributor and DrupalCon and DrupalCamp speaker. Matt has contributed Drupal patches, Drupal modules, Drupal installation profiles, Drupal issue queue and automated tests. He has been credited for 5 security advisories and 230 issue fixes over the last year.
Stories Related To Matt Glaman