Drupal Doesn't Always Have to Do Everything: Melissa Bent and April Sides | FLDC
Drupal Camp Florida 2023 has officially come to an end. The past week TDT has been conducting written interviews with FLDC speakers regarding their Drupal journey and career. Although the camp has come to an end, we still look forward to creating a space for conversation with the speakers of FLDC. Hence, we have prepared yet another interview!
This time, our guests are April Sides and Melissa Bent, Senior Software Engineers at Red Hat. Melissa and April were the speakers on the second day at FLDC. They covered Data Lake and how Red Hat has integrated a Data Lake architecture with Drupal.
Alethia Braganza, sub-editor at TheDropTimes (TDT), reached out to April Sides and Melissa Bent via slack and carried out a written interview, sending in a set of questions via email.
In this interview, Melissa and April discuss their session at FLDC and their experience of being co-speakers. If you are eager to know the importance of attending DrupalCons and Camps like FLDC, April, and Melissa, with their own experiences as examples, brief us on the pros of participating.
"These events are my chance to see and make memories with my best friends worldwide,"
says April.
"It was also a great introduction to how different technologies could be combined, and it gave me the desire to work with challenging projects. This was foundational to my career trajectory," 
adds Melissa, reminiscing about one of the DrupalCons she attended a few years ago.
Below is the complete interview with April Sides and Melissa Brent.
TDT [1]: Could you brief us about your journey and how you started with Drupal?
April: My first experience with Drupal was at a regional community college. We were looking to replace Frontpage 2003 in the year 2006, I believe. One thing that made a difference was that there was a local Drupal meetup group, which made us feel like we would have support if we ran into issues.
I progressed from site builder to developer and decided I wanted to focus on back-end Drupal development. My career has allowed me to work on some amazing projects, including a website released by The White House for the National Climate Assessment. I've worked internally for organizations as well as agencies. Attending Drupal events and meeting new people have definitely played an important role in my journey.
Melissa: I was working for a non-profit as a graphic designer. But I'd been building websites (as a hobby) for ten years already. I was tasked to rebuild their primary website using the CMS of my choice. I selected Drupal and got the opportunity to learn on the job, which is how I became a self-taught developer. I worked there for nearly nine years and built about 15 websites with Drupal that managed media, event registration, email notifications, and integrations with external systems.
From there, I joined a small agency to gain experience in a team environment with the goal of working remotely after two years. Three companies later, I'm now at Red Hat. I have had the opportunity to work on large-scale builds of Drupal, including National Geographic, Nasdaq, Habitat for Humanity, the National Museum of African American History and Culture, and now Red Hat's ecosystem of sites. Along the way, I have met lovely, talented people who have inspired me to do my best work and build great things.
TDT [2]: Few sessions at FLDC had more than one speaker. I am curious to know about the flow of the talk. How do you both go about preparing for it, and what does the outcome seem to be? Does it always turn out the way you have intended?
April: Besides panels, this was my first talk with another presenter. Melissa and I worked closely on the topic we presented, which was very helpful. We started with the session description and organized an outline of what we wanted to touch on. I made a slide deck and transferred the sections into sub-title slides. Then we both just started adding content for the sections we knew best and would be the ones to talk about.
Melissa: I will say that April was key to making this all happen. She helped me organize my thoughts. And once we got going, it was pretty straightforward to determine what portions of the presentation we would cover. The two of us had already worked pretty closely on this topic, so assigning the portions of the talk happened naturally.
TDT [3]: Regarding camps and conferences, what is the importance of participating in and conducting these events?
April: There's definitely a progression of what is most important throughout my career. The first events I attended were highly focused sessions. I planned ahead of time and attended a session in each time slot, taking copious notes. Now, some of the most powerful takeaways come from conversations in what is generally known as the "hallway track." I firmly believe in the unofficial Drupal tagline: "Come for the code, stay for the community." I've transformed from a quiet/shy person into someone who presents sessions and attends social events. These events are my chance to see and make memories with my best friends all over the world.
Melissa: I think this will depend on your (level of) experience with Drupal and what you want to achieve from coming to the event. Similar to April, I was particular about which topics I selected when I attended DrupalCon in the first few years. The case studies and interesting topics really opened my mind to the possibilities of what could be accomplished with Drupal. It was also a great introduction to how different technologies could be combined and gave me the desire to work on challenging projects. It was foundational to my career trajectory and led directly to the talk we presented at Florida DrupalCamp.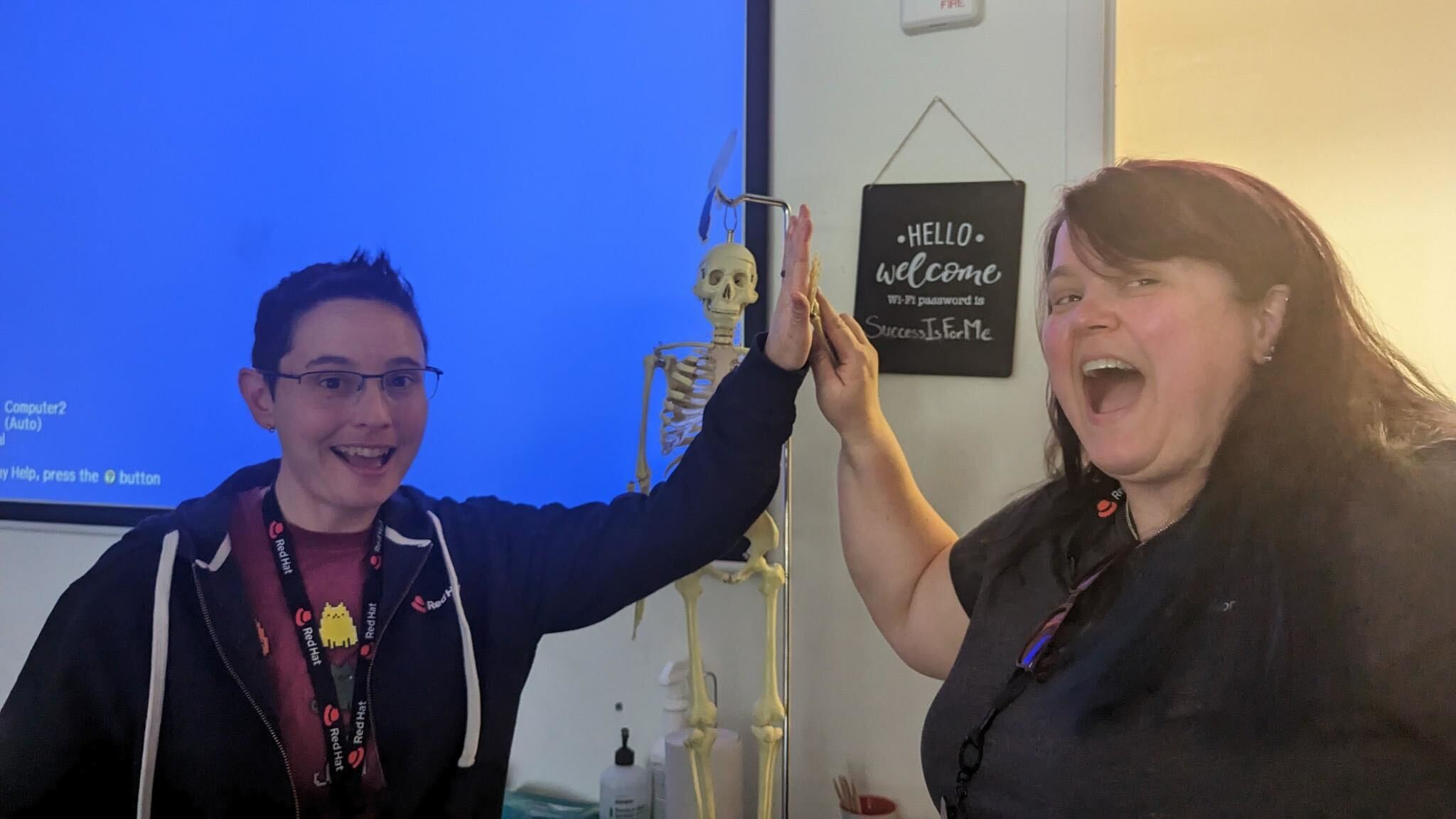 TDT [4]: April, you are the lead organizer of DrupalCamp Asheville's annual conference. It must be a learning experience to overlook the tasks, work your fingers to the bone, and reap the outcome. What is the most rewarding experience of succeeding in the event?
April: As I mentioned in a previous question, my experience in Drupal events has progressed throughout my career, I also love watching attendees progress in their involvement. Providing opportunities for all Drupal journeys gets me excited, in addition to gathering all my Drupal friends in my town. I love creating experiences that help others learn, share, grow, and make fun memories.
TDT [5]: Melissa, you, and April discussed 'implementing a Data Lake.' What was the aim of selecting this topic? What would the attendees pick up from the session you and April presented at FLDC?
[Melissa]: April and I had worked together on this project for quite some time. And the original idea of it, unifying product data and building structured content that we could leverage everywhere, was one I have been intensely interested in since my first few months working at Red Hat. I thought the solution itself was interesting because it provided a different take on Drupal's "presentation" layer. The presentation layer was actually the Data Lake. Because once the data is there, Drupal takes its hands off, and new tools or client systems can then interact with that data without having to know anything about Drupal. It's an exciting take on decoupling that I thought would interest people in the Drupal community.
The biggest takeaway I hope people got from this talk is that Drupal doesn't always have to do everything. But if it doesn't, a lot of additional layers of governance and communication are required to make it successful. It's not right for every application, but it can be suitable for problems requiring data to be shared broadly between different systems and teams.
TDT [6]: April, your curiosities include work culture, entrepreneurship, and burnout. With burnout being a well-recognized word among the working class and practicing students, how have you tackled it in your years of experience? Would you be able to share any piece of advice you picked up along the way?
April: I will start by saying I was one of those people that didn't think it could happen to me. I'm a bit of a high achiever and very driven to do "all the things." After my first experience with burnout, I presented a session at Florida Drupalcamp 2001 about my experience and the things that have helped me. It can be a reoccurring experience for me because of my drive, but what's changed is my awareness of my symptoms and knowing that I need to manage my stress to avoid a breaking point.
TDT [7]: Melissa, what does being a Senior Software Engineer at Red Hat mean to you?
Melissa: One of the best things about working at Red Hat is that you have a lot of freedom to try new and different things. Not that you try them just because you feel like it; they should be something that solves a problem. But you are given the freedom to try new combinations and new presentations.
There is the freedom to ask, "why did we do it this way?" and "Is this still the best way to accomplish what we need?" There's also an immense amount of collaboration and camaraderie among the Drupalists that work at Red Hat. It's a subset of the broader Drupal culture, where people are curious and constantly learning. It leads to new problems, new solutions, and creative explorations, so every day brings new challenges. Some days are tough. That's just the honest aspect of work and life and everything. But the vast majority of days are amazing. And there's no substitute for that culture and environment.
TDT [8]: April, you are a member of the CWG Community Health Team, as well as a member of the A11yTalks organizing team. These teams aim and aid the community. Why is being a member of these teams vital to you? Is there any realization that your contribution has brought upon you these past few years?
April: I am passionate about creating a safe and welcoming environment for people to collaborate and interact. As a part of the Drupal CWG Community Health Team, I can contribute to initiatives, efforts, and incident responses that help make our community the best it can be.
My involvement with A11yTalks is similar in that my values of inclusion and accessibility align with those of the project. One thing I'm passionate about the A11yTalks project is finding ways to raise funds from the community and organizations to make our talks as accessible as we can, inline with those values.
Both of these are opportunities for me to collaborate on things I care about with my friends and stay connected with them when we don't live in the same place or work for the same company.
TDT [9]: Melissa, you have worked on maintaining quite a few projects; your most recent one seems to be the Bible Field Module, of which the current revision is by you. Could you brief us on the technicalities of the Bible Module and how the idea behind it came about?
Melissa: This module was created by Chris Shattuck (a long-time contributor to Drupal), who was my first mentor in Drupal and helped both myself and my first employer accelerate the adoption of Drupal. Since my first employer was a church, the Bible module was created as a multivalue field to allow referencing passages in the Bible.
This original version was created for Drupal 6 and has since been updated to work with Drupal 7. Recently I wanted to contribute back with a Drupal 8+ version, but the timing has not been right for me to be able to work on that with the dedication I'd like. This module was a way to assign a reference to content in Drupal (media, nodes, taxonomy, etc.). Then it used that reference with views to search for related content that covered a specific verse or range of verses. And it ran flawlessly on the original Drupal 6 site for 12 years.
Note: The vision of this web portal is to help promote news and stories around the Drupal community and promote and celebrate the people and organizations in the community. We strive to create and distribute our content based on these content policy. If you see any omission/variation on this please let us know in the comments below and we will try to address the issue as best we can.