Local Drupal Associations Join Forces with Shared Codebase
Drupal is making strides towards presenting a more unified brand experience for local associations by introducing a shared codebase and theme for localized Drupal websites. This initiative, which TheDropTimes (TDT) wish to call, an "i18n-l10n"1 initiative, aims to create a consistent and modern Drupal 9 codebase and theme that can be utilized by various local associations worldwide, ensuring a unified and positive first impression for users evaluating Drupal. The codebase, originally developed by the Dutch Drupal Association2 and adopted by the French association,3 offers a safe, accessible, and up-to-date foundation for local association websites.
The Local Drupal Regions & Associations Round Table held at DrupalCon Lille served as a platform for local Drupal associations and Drupal region leads to meet and exchange impediments, ideas, learnings, and best practices. This open forum discussion hosting 16 Drupal associations discussed ways to strengthen Drupal communities at a local level. The effort extends to creating a shared codebase that allows associations to swiftly set up Drupal websites with a focus on accessibility and modern design.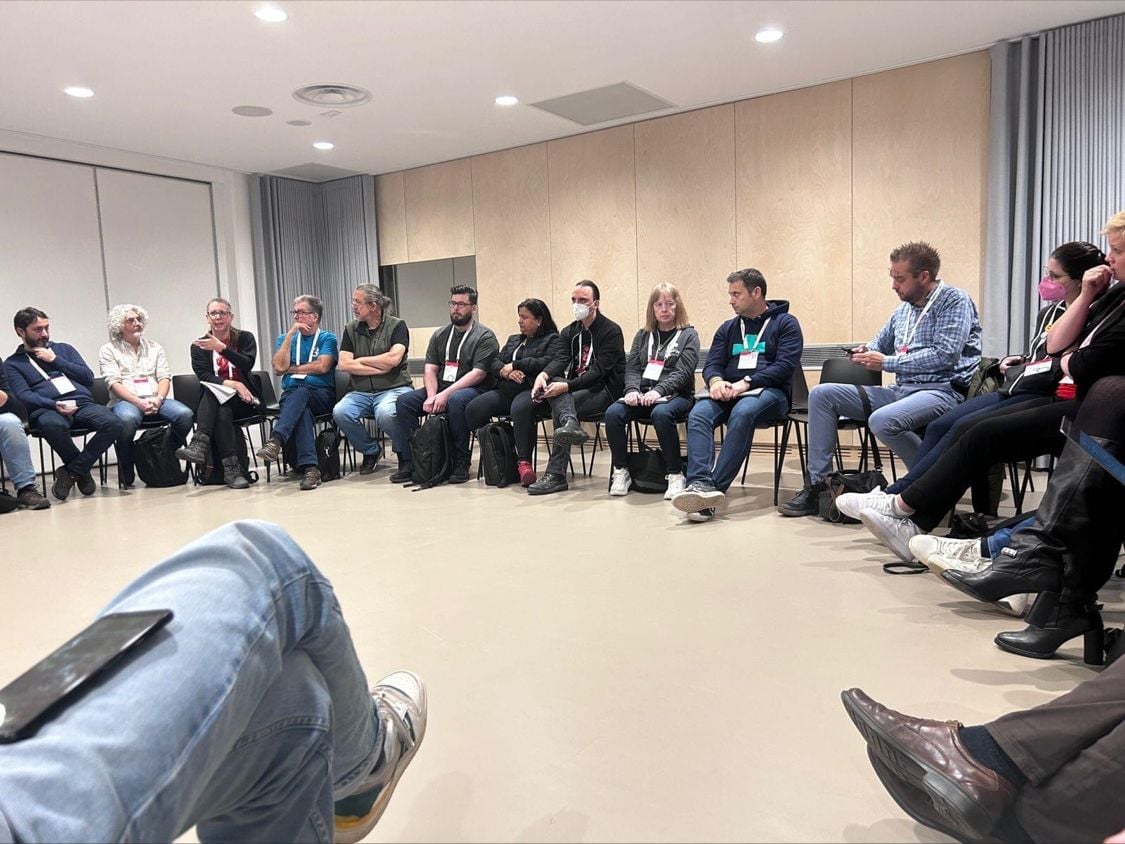 On live interaction with The DropTimes [TDT] volunteer, Binny Thomas at DrupalCon Lille Esmeralda Tijhoff excitedly shared about this new initiative that could strengthen Drupal in Europe and worldwide.
"We had a technical session with a couple of Drupal associations and we're gonna share the code base. We've developed a code base in the Netherlands. And now at the moment fresh off of using this code base for their association's website, and next is Germany and Belgium, maybe Australia."
said Esmeralda.
By sharing the codebase, websites can benefit from updates and enhancements contributed by different associations. With the Dutch, German4 , Belgian5 , and Austrian6 Drupal associations joining forces to discuss the technical aspects of sharing and contributing to the codebase through drupal.org, a new rhythm of unity will be formed in the Drupal community.
"Very soon we're looking at ways to contribute to each other to say what is going on. So we'd love to make the same feelings, the same websites for the associations so that they have quick access to a nice modern people-tell website."
added Esmeralda Tijhoff.
In the following two weeks, these associations are planning to convene online to ensure the ongoing success of this collaborative effort. To stay updated and be part of the discussion, interested parties are encouraged to join the Network of Drupal Associations (Neda) and participate in the forthcoming meetings through this link: https://lnkd.in/eZ8g6xQr.
One of the most notable collaborations to emerge from this initiative is the sharing of the Dutch Drupal Association's website codebase, providing associations with an efficient means to establish modern, accessible Drupal websites. Notably, the French Association has already effectively implemented this codebase on its website. Those interested in becoming part of this collaborative effort are encouraged to contact Esmeralda directly or join the Drupal Slack community.
"If you're in an association or you don't have an association, yes to your country or to your lovely location, you can contact us and we are also on Slack. We can exchange information or resources. We Should collaborate more and spread out our time and our knowledge."
This international collaboration not only enhances the accessibility and modernity of Drupal websites but also underscores the significance of the Drupal community's combined efforts in fostering consistent and accessible web experiences. As Drupal's influence expands across the globe, this shared codebase initiative demonstrates the community's dedication to improving the Drupal experience and unifying local associations in their web presence efforts.
"By sharing the codebase, the websites will profit from the updates on the original codebase, and associations can contribute new features, models, or other improvements for the rest to enjoy."
concludes Esmeralda Tijhoff.
1i18n stands for internationalization and l10n stands for localization
2Stichting Drupal Nederland or the Drupal Netherlands Foundation is the interest group of Dutch Drupal users, companies and developers. URL: https://www.drupal.nl/
3l'Association Drupal France et Francophonie or the Drupal France and Francophonie Association is responsible for promoting the use, translation and documentation in French of Drupal, organizing Drupal-related events and defending the interests of the project and its community in France and the French-speaking world. URL: https://www.drupal.fr/
4Germany has two Drupal Associations. The first one, Drupal e.V. or German Drupal Association is a non-profit with URL: https://verein.drupal.de/ where as Drupal Business Deutschland eV, a consortium of Drupal Agencies in Germany is registered as a company with URL

https://www.drupal-business.de/

5The goal of the Drupal User Group Belgium (

Dugbe

VZW) is facilitating and supporting initiatives within the Belgian Drupal Community. The non-profit takes on specific tasks to disseminate & improve the knowledge and use of Drupal in Belgium. URL: https://www.drupal.be/
6Drupal Austria Verein or Drupal Austria Association for the promotion and support of the open source software Drupal has set itself the goal of strengthening and supporting the Austrian Drupal community. URL: https://www.drupal-austria.at/
Note: The vision of this web portal is to help promote news and stories around the Drupal community and promote and celebrate the people and organizations in the community. We strive to create and distribute our content based on these content policy. If you see any omission/variation on this please let us know in the comments below and we will try to address the issue as best we can.