DrupalCamp Colorado: Nurturing Collaboration and Growth
The organizing committee of DrupalCamp Colorado worked tirelessly behind the scenes to orchestrate a remarkable event. The committee members, Matthew Saunders, Philip Stier, Janice Camacho, and Christine Coughlan, diligently crafted an experience that brought together Drupal enthusiasts from all walks of life. Kazima Abbas, the sub-editor of "TheDropTimes," had the unique opportunity to interview key committee members before the event unfolded.
The camp happened in the first week of August, and now we are at the end of the month. We apologize for being very late to push this interview out as we waited for a few photographs to pep up the presentation, which we failed to pull to date. We hope the community will condone our lapse. Conceived as pre-event marketing, this will now go as post-event publicity. Still, here it is as a rule book for every mid-sized camp.
DrupalCamp Colorado is a community-driven event that brings together enthusiasts, developers, designers, and users of the Drupal content management system.
The Organizing Committee aimed to create a platform facilitating knowledge sharing, networking, and skill enhancement within the Drupal community and provide attendees with an insider's perspective into the event's objectives and accomplishments.
Now, let's dive into a typical day of planning for the organizing committee of DrupalCamp Colorado.
TDT [1]: How did the idea for DrupalCamp Colorado originate? Could you provide some insights into the background of this annual event?
Matthew Saunders: The camp came into being in 2007. A group of us at pingVision (a small Boulder agency) reached out to the local community and invited people to a meetup. We sat around a couple of tables, eating pizza and showing each other things we had been working on. Later that year, that meetup became a more official camp where we had a classroom at Devry Institute, attracting speakers as far away as the UK. Since then, we've sought to professionalize and expand the camp.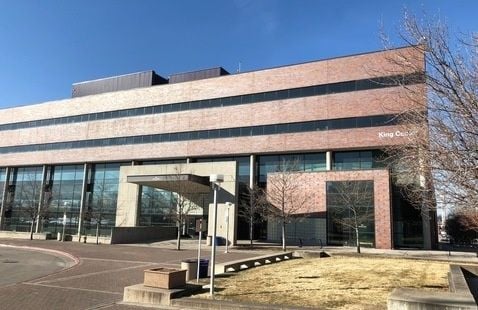 TDT [2]: What are the primary goals and objectives of DrupalCamp Colorado for this year? How do you plan to achieve them?
Christine Coughlan: Our goal this year is to focus on providing an opportunity for people to share their knowledge with the community and bring people together to network and learn from each other. It is done by focusing on sessions where people can present and providing a venue for people to gather. People expressed a desire to be back in person together, and we're excited to offer that to them!
TDT [3]: What are your expectations from DrupalCamp Colorado 2023? How do you envision its impact on the local and broader Drupal community?
Christine: We have a great line-up of speakers this year! They come from a wide range of backgrounds and speak on all kinds of topics. I hope people will take what they learn—both hard and soft skills—back to their everyday job and apply it to their work.
TDT [4]: Could you describe a typical day of planning for the organizing committee of DrupalCamp Colorado? What are the various tasks and responsibilities that make this event a success?
Christine: Planning for our event never really stops. It starts with a retrospective of the previous year. This helps us identify the areas where we need to focus our attention and develop ideas for the next camp. From there, we hold a few monthly meetings to determine who will focus their attention on where and what we want the next camp to look like. When we get about 7 months out from the next camp, we increase the frequency of those meetings to tackle more specific tasks. Those tasks include:
Finding organizations to sponsor our camp so we can keep it free to attendees. Thank you to everyone who has supported our camp this year and in the past — your contributions make our camp possible!
Designing and building the camp webpage.
Negotiating with a venue where we can hold the camp.
Developing a schedule for the event.
Soliciting speakers, reviewing their ideas, and selecting the best for the event.
Marketing the event via social media and our newsletter.
Designing exceptional swag for attendees.
Creating a new camp page on our website https://www.drupal-colorado.org
Setting up Sessionize for our calls for speakers
Setting up Hopin for our broadcast of the event
And all the other little logistics that go into planning an event for over 100 people.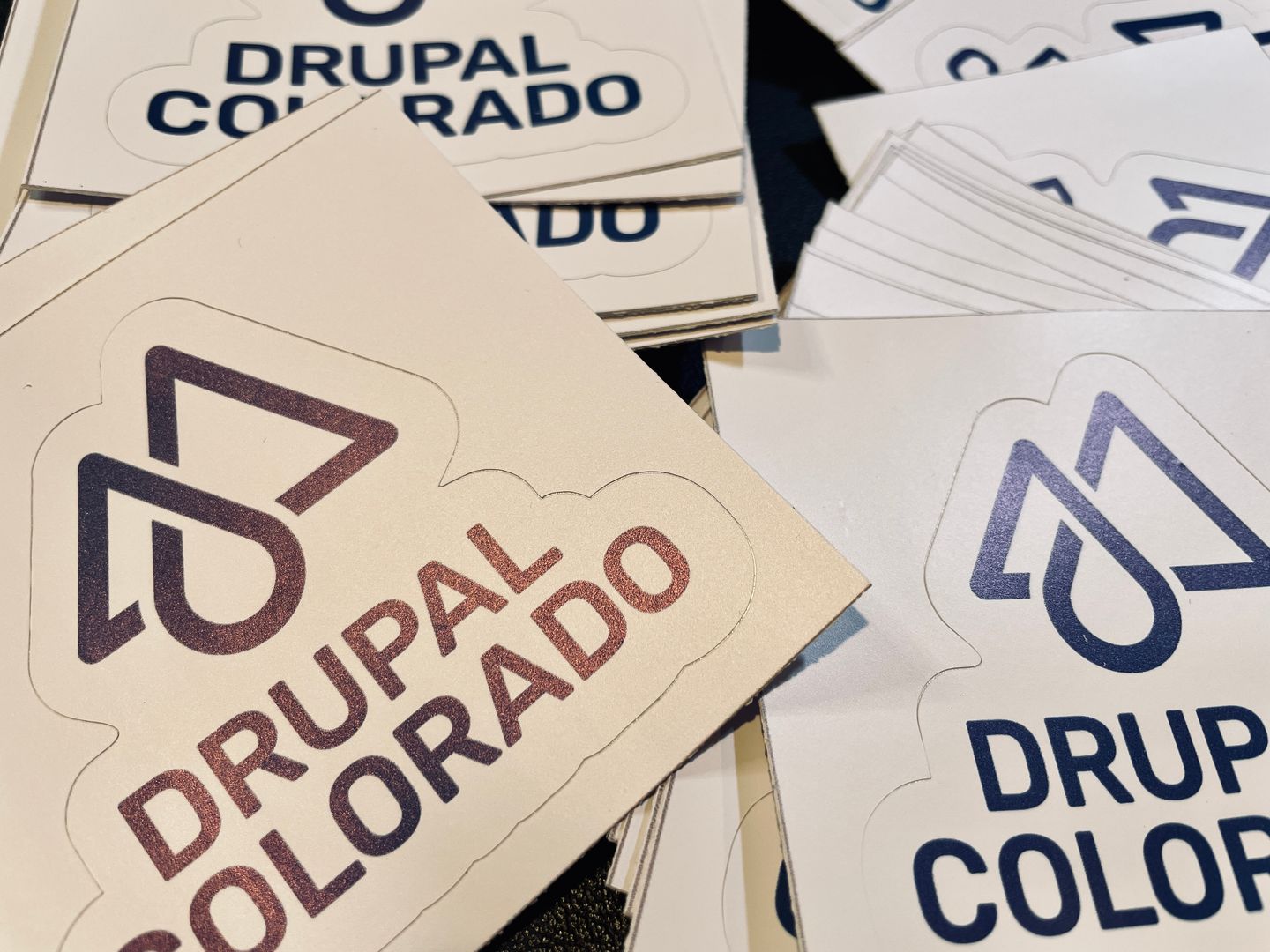 TDT [5]: As an individual organizing committee member, what motivated you to join DrupalCamp Colorado 2023's team? What personal goals do you hope to achieve through your involvement in this event?
Matthew: I've been nourished by the Drupal community since 2006. I'm grateful for all the contributors worldwide who have made Drupal great. It has been an important part of how I've earned my living. Running the camp is one of the ways I feel I can give back significantly.
TDT [6]: How has DrupalCamp Colorado evolved over the years? Are there any new features or changes planned for this year's camp that attendees should look forward to?
Christine: The camp started as a small meetup. Over the years, it has flexed in size. We've held it in different locations. We had support from the Open Media Foundation for years, which acted as our nonprofit sponsor. About a year and a half ago, we finished putting together our paperwork to become a fully independent 501(c)3 nonprofit.
During COVID, we became a virtual camp. Last year we experimented with doing a fully hybrid camp. Being fully hybrid proved challenging, so we've scaled that back this year and will be broadcasting our sessions, but we won't have any virtual presenters.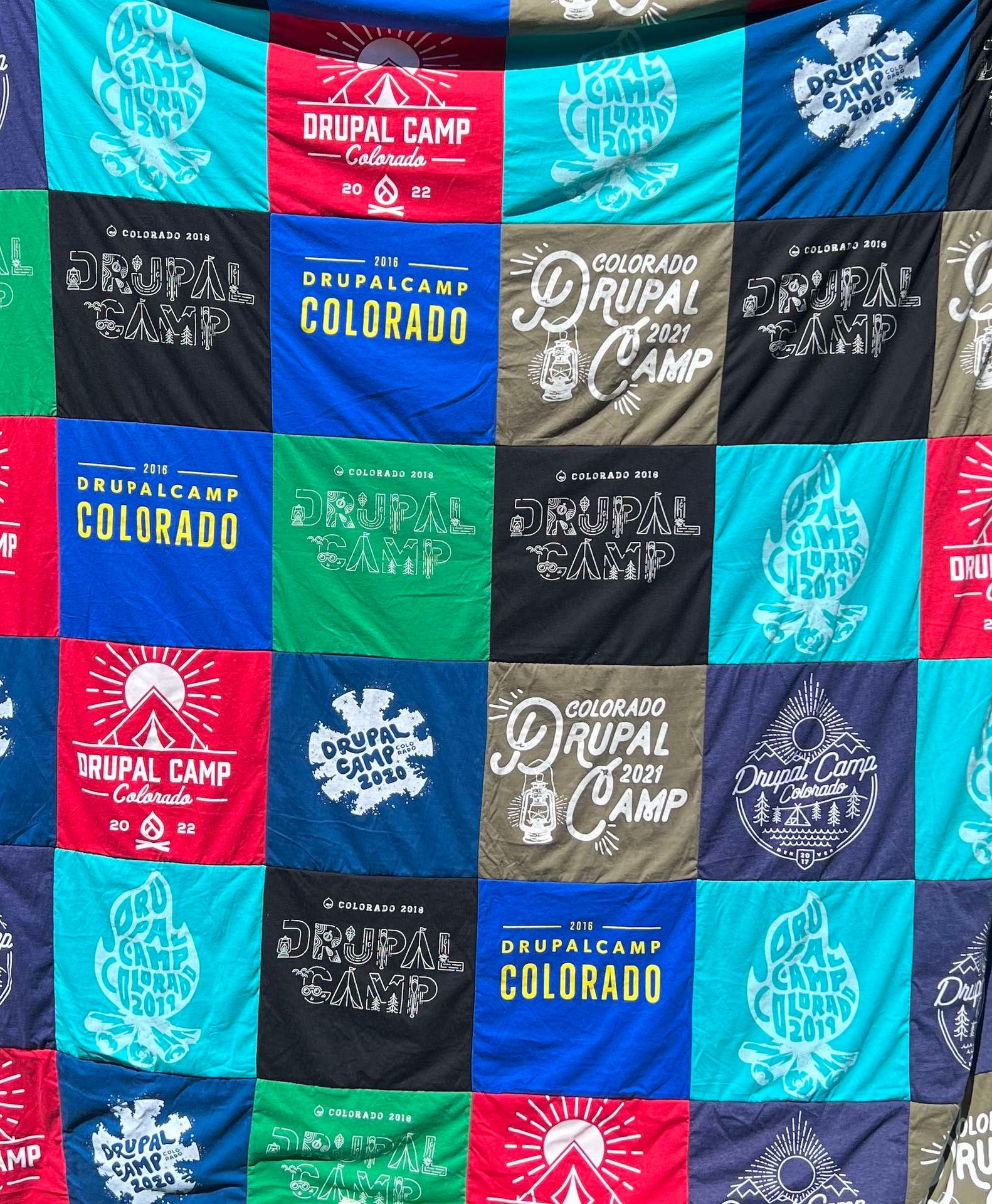 This year we're giving away a Drupalcamp T-Shirt quilt to a lucky individual donor!
TDT [7]: How does DrupalCamp Colorado foster collaboration and knowledge sharing within the community? How do you ensure that attendees get the most out of the camp?
Christine: Our sessions and BoFs (Birds of a Feather) are the best way for people to share knowledge. We try our best to open session submissions as early as possible so people have plenty of time to prepare for their presentations. This helps to ensure we have stellar sessions. Anyone can submit an idea for a BoF. These are open roundtables where people can discuss issues and provide advice to each other. Finally, we hand-select our keynote speakers to bring fresh talent and new perspectives.
TDT [8]:What challenges does the organizing committee typically face while planning and executing DrupalCamp Colorado, and how do you overcome them?
Matthew: I think the biggest challenge is in retaining volunteers. Putting on a camp is a big commitment, and without adequate help from a group of volunteers can quickly become a second, unpaid, full-time job for someone. We don't want anyone burning out.
TDT [9]: Can you share some success stories or memorable moments from past DrupalCamp Colorado events that highlight its positive impact on the community?
Philip Stier: DrupalCamp Colorado was one of the first local camps to pioneer a hybrid camp during the pandemic, which ultimately became quite a success and an experience that other communities and camps have now started asking us about. Even though DrupalCamp Colorado is an in-person event this year, we will broadcast all of our live sessions over Hopin.
DrupalCamp Colorado is also the largest free, DrupalCamp in the US still to this day, which lends itself to various exciting speakers and keynotes.
With individual donations, we also give away swag and t-shirts every year, making the experience more memorable.
Lastly, the after-party is always a great place to meet people outside classrooms and share great memories.
TDT [10]: In what ways does Drupalcamp Colorado contribute to the growth and advancement of Drupal technology and its ecosystem?
Philip: All of DrupalCamp Colorado's sessions, keynote, and interviews are selected based on various topics and skill levels that all contribute to the betterment of Drupal and the Drupal community. We also host an entire day dedicated to contributing efforts to Drupal and its technology and ecosystem.
TDT [11]: How do you cultivate relationships with sponsors and ensure they have a valuable experience at the camp?
Philip: We want to ensure our sponsors get the most out of their financial contributions, so we put a lot of thought into our prospectus every year. Not only that, we ask them what is and isn't working. A relationship like this is two-way, so we want to hear from them just as much as we want to offer our ideas to them.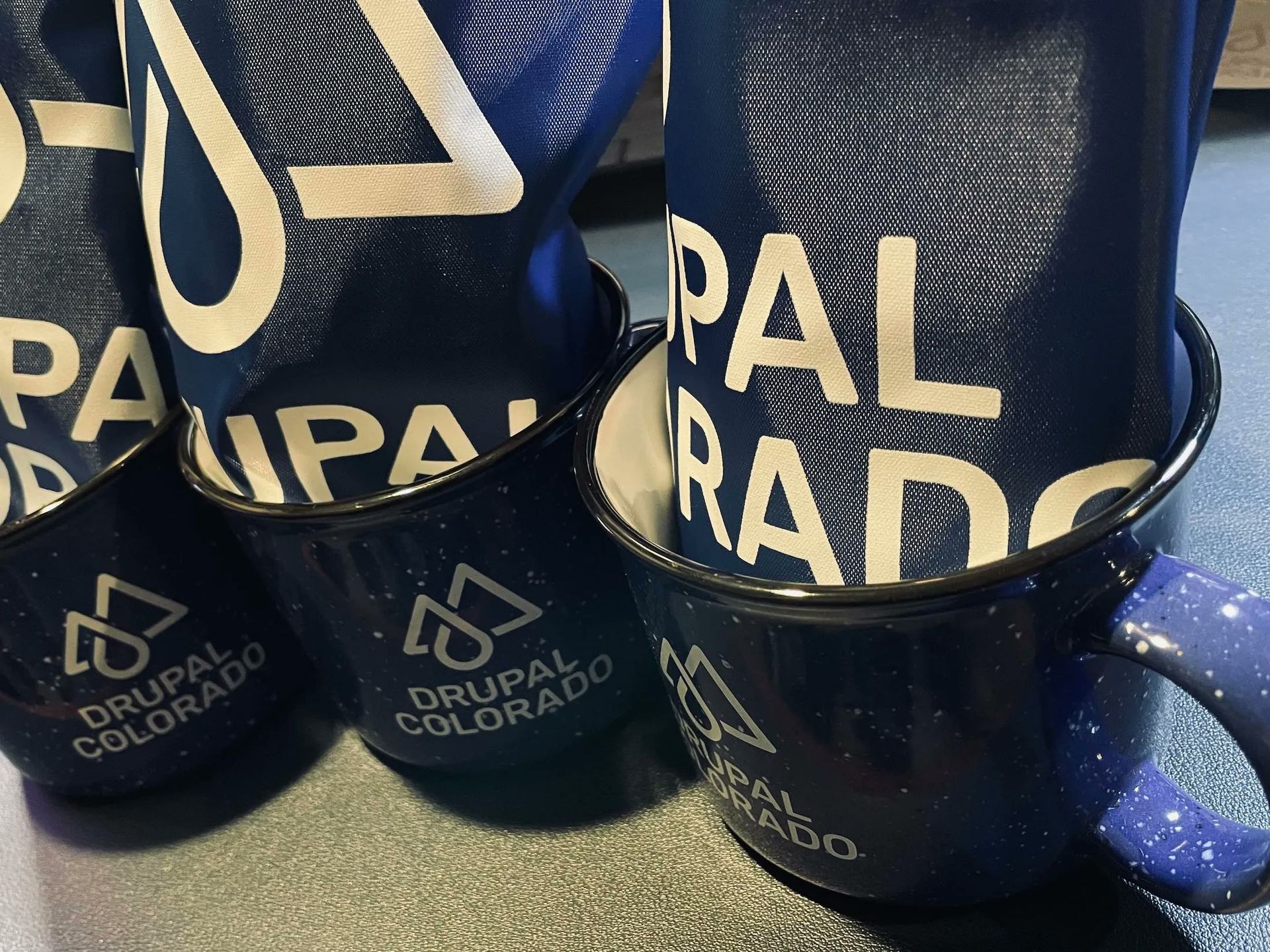 TDT [12]: How do you ensure a welcoming and representative space for all participants?
Philip: Inclusivity is a core value of the newly formed Drupal Colorado, Inc., and we believe we produce the best results when a diverse group of people comes together to plan, decide, and execute. Our aspirations, the handful of Code of Conduct certified members and being a free event, make DrupalCamp Colorado a welcoming space for the community to come and meet up with each other.
TDT [13]: What are your long-term visions and aspirations for DrupalCamp Colorado? How do you see the event evolving in the future?
Philip: The Drupal community in Colorado has officially formed a nonprofit as of 2022, and the future of DrupalCamp Colorado is very much under discussion and review. Our approach may change drastically next year as we continue to establish events and community opportunities.
TDT [14]: As the organizers of a camp around a specific technology, how do you evaluate the future of Drupal years from now? Considering its current path, will Drupal sustain the fast-changing technology landscape in the age of advanced AI?
Philip: Although we are a camp and a community centered around Drupal, we support and try to incorporate open-source software and the open-source software community wherever possible. We understand that Drupal can often be on an island in terms of software. Still, we believe making it a topic of conversation in a broader open-source discussion, we can help sustain and grow the larger Drupal community.
Note: The vision of this web portal is to help promote news and stories around the Drupal community and promote and celebrate the people and organizations in the community. We strive to create and distribute our content based on these content policy. If you see any omission/variation on this please let us know in the comments below and we will try to address the issue as best we can.