An Accidental Web Developer: Interview with Rick Hood | NERD Summit
Sailing was a major part of Rick's life. He has had a life on the sea for as long as he can remember. After selling his boat business, he dived into graphic designing and co-led a publication . Rick has a few stories and memories to share, from his roots at sea to graphic designing to Hans Zimmer.
Read into his journey, his passion for music, and what led him to Drupal. Rick is also a co-organizer at the NERD Summit 2023. Alethia Braganza, a sub-editor at TheDropTimes (TDT), interviewed Richard Hood to learn more about him and the Summit. This will be the first interview from an organizer of the NERD Summit that we publish in TDT. Continue to read on.
TDT [1]: Can you provide a brief overview of your background? You are currently the Lead Drupal Developer at Common Media. When and why did you decide to build your career in Drupal?
Richard Hood (Rick): In my previous life, I ran a boat building and service business just north of Newport, Rhode Island. Back then, boats and sailing were a massive part of my life. For example, I was on the crew of Independence in the 1977 America's Cup trials, in which my dad, Ted Hood, skippered. He had won America's Cup in 1974. In 1977 we lost to Ted Turner sailing Courageous, the boat that had won in 1974.
When we sold the boat business in 1999, I took a left turn and started a graphic and web design business. I freelanced from 2000 to 2011, when I joined Common Media, a web development company in Western MA, where I have lived since 2002. I started with Drupal around 2007; more about that later.
In 2009, I started a publication with my sister-in-law called the Yacht Insider's Guide (yachtinsidersguide.com). Since COVID, we no longer publish a printed guide; it is a website only now. More here.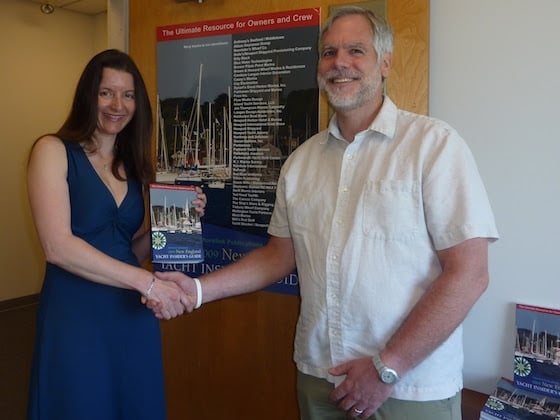 TDT [2]: In 2000, you launched a new career in web development, video, and graphic design. What was the inspiration behind this career path?
Rick: Around 1995, a colleague of mine, Donald Ainsley, invited me to meet a friend of his, Mark Bistline. Mark was working out of his house in Newport, creating interactive tours of private schools on DVD using Macromedia Director. I said to Donald, "boy, I'd like to be doing that someday." The funny thing is, later, Mark founded Schoolyard, building many Drupal sites for private schools.
I purchased Macromedia Director and started to learn it. Soon after, Macromedia Flash came out, so I switched to that because it could be done on the web. I started doing websites for fun as a hobby, such as my daughter's ballet company. I also fell in love with Photoshop and did graphic design work. I was a big Kai Krause fan, as well as David Carson.
As mentioned, when we sold the boat business in 1999, I took a left turn and started my own freelance business in graphic design and website building. Over the years, that morphed into being 100% website development.
At first, I was doing a lot of Flash sites, sometimes connecting to databases with Microsoft's Active Server Pages. Somewhere around 2006, I discovered Drupal. I don't remember how or why I found it. I looked at Joomla as well. I decided to dive into Drupal because it had a great community; from what I had read, it was built right "under the hood." I was pretty much 100% Drupal by 2007 or 2008.
One fond memory I have is of taking courses in Providence, RI, from Lullabot, who was doing in-person training then. The classes were taught by some of the "greats" like Angie Byron, Jeff Eaton, Nat Lampton, Matt Westgate, and Jeff Robbins. I recall going to dinner one night with everyone, and John Resig, the creator of JQuery, was there because it was still pretty big news that Drupal had adopted jQuery.
TDT [3]: Music has been your passion. You Created a youtube channel in 2016 and have put up a couple of your projects. Could you talk a little about these projects? Is there anything you are currently working on?
Rick: The projects on YouTube are just for fun, practicing scoring to film/video. Most or all of those videos come from a film-scoring community called The Cue Tube.
The Cue Tube provides videos to practice scoring with, and they also run competitions. I fell in love with Hans Zimmer scores a few years ago—Inception and Interstellar—which got me into trying to make film-score-style music.
I am not currently working on anything much at the moment. In 2021 I more or less stopped composing for a bit while I concentrated on practicing piano to relearn that. I am doing that partly to play piano better but mainly to help with composing.
I occasionally work on composing but have not put anything up on Soundcloud for ten months or so, the last tracks being music inspired by Olafur Arnalds. I will probably get back into that soon. I plan to do this full-time in retirement, coming somewhere in the next 2-3 years.
TDT [4]: When did you get into the art behind making soundtracks, and what was the motivation behind them? Did you jump right in, or did it take some time to realize that you want to pursue this further? Is it a hobby for you or something more?  
Rick: This started with me wanting to understand more about what a DJ does. I was confused about DJs playing music, but they also seemed to come up with their own music. One example is Paul Oakenfold, a top DJ who also puts out albums such as Bunkka, one of my favorites.
Anyhow, from there, I learned what a "producer" is. I thought producer meant the money person behind the music—and it may occur in many cases—but it also means producing music on a computer. So I learned that DJs both play but also can be "producers."
So, I started producing, first on Logic, then switching to Ableton Live. I had done some of that 20 years earlier, using Cubase. I tried Cubase back then because I had read that is what Moby used, and I loved his music.
TDT [5]: Western MA Drupal Camp was what NERD Summit was initially called. And you have been working on this camp since 2011. As a primary organizer who has seen the change, what are some notable differences offered or presented by NERD Summit since the NERD Summit proposal in 2013?
Rick: In the fall of 2013, Kelly Albrecht suggested NERD Summit at a WMass Drupal Meetup. He thought Drupal-only might be too limited for a Western MA conference, so we should consider expanding it. I agreed, as did most, but not all, of the other folks at that meetup (later, everyone seemed to be on board). We also wanted to try to focus on helping get under-represented people into tech, such as women and people of color, which became NERD's main mission. Kelly created the NERD organization, a non-profit New England Regional Developers.
So the big difference from a Drupal event is that NERD Summit has sessions about any kind of tech, including hardware, and we try as much as possible to have sessions that focus on our mission of inclusivity. Two of our partners include Hack Diversity (Boston, MA) and The Tech Foundry (Springfield, MA). Also, folks from Holyoke Codes have been involved with the conference for years.
TDT [6]: Is contribution essential in a successful event, and how can we equip ourselves to contribute? As an organizer, how would you encourage Drupal Community members to contribute to events like the NERD Summit?
Rick: Oh yes, without contribution, there is nothing. All the event volunteers and speakers contribute a lot of time and effort. Our primary avenue for inviting contributions is social media and other outlets. For example, the Talking Drupal podcast mentions NERD Summit and, of course, The Drop Times.
Suppose you are referring to a contribution to Drupal itself; no, we don't include that as part of the event, mainly because we are not a Drupal event per se. We could do so; however, nothing says a Drupal contribution session could not be part of it. Someone would have to submit a session for that.
TDT [7]: Organizing could be a bit exhausting on a certain level. It takes months of planning indefinitely, and the pressure to create a new wow factor may creep in. At any point, has it been limiting? How do you tackle organizing past such anxieties and doubts?
Rick: It is a lot of work. For me, it is not the work that is tough; it is the stress of worrying about "what if something goes wrong?" and "what have I forgotten?". As the person leading all the logistics, it's a bit nerve-wracking.
If the venue has been used before, so you are used to it, that makes it much easier. Documenting everything that has to be done (checklist) helps and is a requirement, in my opinion.
The hardest thing for the "wow factor" is getting one or more outstanding keynote speakers. I don't think a camp has to have that, but it helps if it does. We have been fortunate to have some good ones, and this year I feel like we have super exciting speakers for our two keynotes: The Art Of Livecoding and Creativity Under Constraint. You have to start thinking about who might make good speakers early, as it can take a long time to think of them and reach out until you find one or two who can do it.
TDT [8]: Although not visible in the picture, would you be able to recall the start of the Western MA Drupal Camp? How did the then-existing team realize the need to Start WMass in 2011? What were some of the challenges and surprises they faced? What was the motive behind Western MA Drupal Camp?
Rick: Boy, I honestly don't recall how WMass Drupal Camp started. That might be because I was not very involved with it in the first year, 2011. At that time, I was chair of the Amherst Regional School Committee, and we were in the middle of a Superintendent search which took a lot of my time. I think folks in the WMass Drupal Users Group thought it would be a good idea.
Note: The vision of this web portal is to help promote news and stories around the Drupal community and promote and celebrate the people and organizations in the community. We strive to create and distribute our content based on these content policy. If you see any omission/variation on this please let us know in the comments below and we will try to address the issue as best we can.