Drupal Is an Extremely Robust and Secure Choice: Jeremy Chinquist
In the fast-paced world of digital innovation, those who possess an unwavering dedication to propelling their fields forward emerge as leaders. Among these exceptional individuals is Jeremy Chinquist, an esteemed Project Manager at Drunomics. He is one of the renowned organisers of Drupal Developer Days Vienna.
In this exclusive written interview with Kazima Abbas, Sub-Editor at TheDropTimes [TDT], Jeremy Chinquist shared his insights on project management, his experiences as the organiser of Drupal Developer Days Vienna, and his vision for the future of Drupal.
"Drupal is, to me, an extremely robust and secure choice, much more so than other CMSs that I have worked with", states Jeremy.
Let us dive into the interview: 
TDT [1]: How did you first get involved with Drupal, and what sparked your interest in it?
Jeremy Chinquist: I believe my Drupal handle (jjchinquist) speaks volumes. In 2008 I discovered Drupal while researching which CMS would be best for my online magazine company, which I had started with two colleagues. I quickly got involved in the Drupal-Austria community.
TDT [2]: Could you share some highlights from your journey with Drupal since 2006? What are some memorable experiences or projects you've worked on?
Jeremy: QUAX.at, the company I started, was certainly the most memorable. I had to use Geocoding heavily to search and display content on maps, which Drupal reasonably well supported. QUAX.at was an online magazine for families with children. Drupal served us well until I left in 2013, shifting employers to the Austria Press Agency (APA). Then I got involved in Zend Framework, but I continued my role as the Cashier for the Drupal-Austria Verein (club). The APA supported my work and helped me to organise meetings between the WordPress and Drupal communities with the APA. In 2018 I shifted again to Drunomics GmbH where I could continue my work in Drupal. 
Beyond that, Drupal has opened the doors to work with Burda and the Thunder Team. For einfachbacken.de, my first project at Drunomics, I worked with Wolfgang Ziegler and many very competent people to make a Drupal project using Vue.js for the front end (without JQuery). It was exciting, and I learned quite a bit. Drupal 8 was still new then and really changed the workflows I was used to with Drupal 6 and 7.
TDT [3]:  As the Kassierer (bookkeeper) for Drupal-Austria, what responsibilities does this role entail, and how has it contributed to the Drupal community?
Jeremy: Prior to 2023, this role was not very time-consuming. Once per year, we had to present the bookkeeping to all members at our yearly meeting. As a small club, we were tax-exempt. This year that has changed, and we are required to do much, but I enjoy coming together as a community, learning from one another, and considering several members as friends. 
TDT [4]: Can you tell us about your role as a project manager at drunomics? What are your main responsibilities and how does Drupal play a part in your work?
Jeremy: I often consider myself the oil in the engine. I rarely program these days, maybe a form or two, but my responsibilities lie most in checking the stories for the developers. Especially that the acceptance criteria are formulated such that the developers can have a clear goal of what is to be developed. It is the worst feeling when you have invested one whole Scrum sprint cycle and in the review meeting with the stakeholders, they say "This is ok, but what I really wanted was…"
Drunomics also supported me to become a Certified Scrum Master and this has truly paid off. Along with Wolfgang Ziegler and the entire team, we continually work towards adhering to the Agile Methodology and DevOps principles.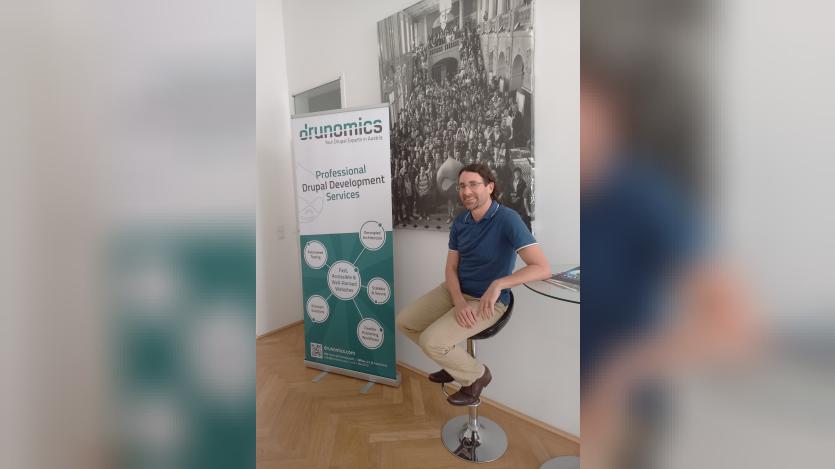 TDT [5]: Are there any specific initiatives or projects you've been involved in within the Drupal community? If so, could you provide some details about them and their impact?
Jeremy: For the Drupal-Austria website relaunch to Drupal 8, I worked with a small team out of the Drunomics office, including Alex Milkovskyi, Arthur Lorenz, Baris Tosun, Mathias Müller, Christian Meilinger, Christian Ziegler and Nico Grienauer [At the time, I was employed at the APA only a few hundred meters away]. It was a fun project, where we all had to learn the finer aspects of configuration management in Drupal 8. The migration got so complex that, at one point, I said that I would migrate the 60 problem articles by hand. Mathias turned to me and asked me if I was crazy, to which I answered, "certainly." Shortly before go-live, we were still redesigning some of the fields on the front end.
TDT [6]: What is your personal motto or philosophy that guides your work in the Drupal community and your profession?
Jeremy Chinquist: I am a practical and goal-oriented person. I do not mind addressing problems head-on as long as we find a solution that works for people. In that way, I am very much a Scrum Master who likes to clear blockers.
TDT [7]: Regarding the upcoming Drupal Developer Day Vienna event, could you share some details about how you are planning to promote the event? Are there any innovative or unique approaches you're considering?
Jeremy: This is a good question and one we should consider in the future. I think we did too little this time around. We did the basics, nothing innovative. We spoke to other communities, used our networks and, as usual, we added a press release.
TDT [8]: What do you believe sets Drupal Developer Days Vienna apart from other Drupal events? How does it contribute to the Drupal community and its members?
Jeremy Chinquist: Drupal Developer Days puts the contributor and programmer in focus. We are not catering to business and management, which is very much the focus of DrupalCon Europe (for which I am also a Track Chair). In that regard, I believe I will enjoy this event very much. It is actually my first Drupal Developer Days, as my work is more often business oriented.
TDT [9]: Can you share a recent major project or contribution you have made to the Drupal community? What were your key challenges, and how did you overcome them?
Jeremy: Liopold Novelli and I will be giving a talk about translation management in Drupal 10 and how we are tackling the issues posed by the layout builder and translations. My work also focuses on decoupled projects, which present challenges that must be overcome. In short, the system we have implemented keeps the layouts in sync. When a block is created or deleted in the base language, then it is created or deleted in all translations. Referenced items are only managed in the base language of the node and the correct translation of the referenced item is loaded. This approach has advantages and disadvantages that we will go into on Saturday.
TDT [10]: In your experience with Drupal, what are some of the most valuable benefits it offers compared to other content management systems? How has Drupal influenced your approach to website development and management?
Jeremy: Drupal is, to me, an extremely robust and secure choice, much more so than other CMSs that I have worked with. It scales and uses 3rd party technologies well. To do it right means investing money, but the benefits are great. I believe that with Drupal 10 and moving forward, we will make decisions that make development more streamlined and simpler, saving clients money and time to launch. 
TDT [11]: Modern Drupal, still being the monolith it once was, is also providing API-based seamless integration opportunities with a headless structure to extend its DXP capabilities. From a business perspective and from your experience as a project manager at drunomics, which way would you recommend businesses to pursue and why? 
Jeremy: At Drunomics, we develop in a decoupled fashion. The benefits it offers are great (e.g. being extremely flexible, secure, fast, scalable, etc.). Done right, it can boost your project. The main blockers are the speed of delivery and extending the system is more time-consuming than other approaches. Many companies have developed workflows to get you started quickly with a good base set of features, as has Drunomics. The most important thing for the client, in my opinion, is to be clear that customizations are just that, custom pieces, built into a very rich system that can bring you great rewards.
TDT [12]: The EU regulation on data protection and security that makes GDPR compliance mandatory is seen by some quarters as hard for marketing automation and targeted content delivery. Would you share your perspective on it? 
Jeremy: Implementing GDPR-compliant websites has increased costs. We have had to integrate tools and add automated tests to check for compliance. I believe our work here has helped our clients and partners more effectively adhere to rapidly changing requirements. It has been a topic at a few of our Drupal-Austria meetups and will continue for a long time. All of us, I believe, take data privacy and consent very seriously. 
TDT [13]: Do you think the recent inclusion of Drupal as a designated Digital Public Good helps the adoption and growth of Drupal in government space, especially in Europe? 
Jeremy Chinquist: Without doubt, yes. Please let me get back to your question shortly, but I want to address something for context.
Social media has been shown to have a profound effect on our world. It can shift the mindset of entire nations. AI is rapidly proving to be another such technology. There are fundamental questions to answer.
I want to reference Fran Drescher's speech concerning the ongoing strikes in the US for the filmmaking industry. She is correct to say that workers need protection from recent technology developments in AI, voice technology and digitalisation. If we do not properly regulate and protect ourselves, we do ourselves a disservice and our world will be worse off for it.
I was deeply moved by her speech.
To get back to your question, open-source technologies like Drupal are vital to maintaining a free and open internet. The United Nations' Sustainable Development Goals aim to protect and improve our quality of life. I only hope that more organisations will choose to support these goals. That Drupal has achieved this status is a great step forward. I am extremely proud of the Drupal Association in that regard.
Note: The vision of this web portal is to help promote news and stories around the Drupal community and promote and celebrate the people and organizations in the community. We strive to create and distribute our content based on these content policy. If you see any omission/variation on this please let us know in the comments below and we will try to address the issue as best we can.