Drupal's Rise as an E-Commerce Builder: Powering Online Retail
Drupal has evolved to become a formidable player in the world of e-commerce website development. Over 2.3 billion customers made online purchases in 2022 as online retail continues to expand. Drupal has adapted to the changing times by offering impressive e-commerce features. The blog post titled, "Leveraging the Power of Drupal Commerce to Build Incredible eCommerce Sites," published by LN Webworks points out that while e-commerce isn't yet part of Drupal's core functionality, its array of e-commerce modules is fueling the success of online retailers worldwide.
Drupal's prowess as an e-commerce site builder can be attributed to several key features.
First, its SEO suite, encompassing modules for SEO checklists, advanced access, and built-in URL optimization, ensures high search engine rankings and organic traffic.
Second, Drupal supports customer engagement tools like blogs, forums, reviews, articles, and videos, fostering customer loyalty.
Third, the platform excels in effortless third-party integration through RESTful APIs, enabling personalized experiences.
Moreover, Drupal boasts top-notch security, essential for earning customers' trust.
And it prioritizes mobile-friendliness with responsive web design.
This combination of features makes Drupal a compelling choice for e-commerce development services.
For those considering Drupal for their e-commerce endeavours, a selection of modules further enhances its capabilities. Drupal Commerce, Commerce Kickstart, Invoice, and Commerce Shipping streamline product management, order processing, and shipping cost calculations. Modules like Commerce Recommender and Ubercart Recommender facilitate personalized recommendations, while Mailjet/Mailchimp Commerce empowers email marketing efforts. Currency converts world currencies based on stored exchange rates. The Commerce Wishlist module enables one to keep track of products and purchase them whenever possible. coupon management through Commerce Coupon, and order-related updates via Commerce Message complete Drupal's toolkit for building exceptional e-commerce websites.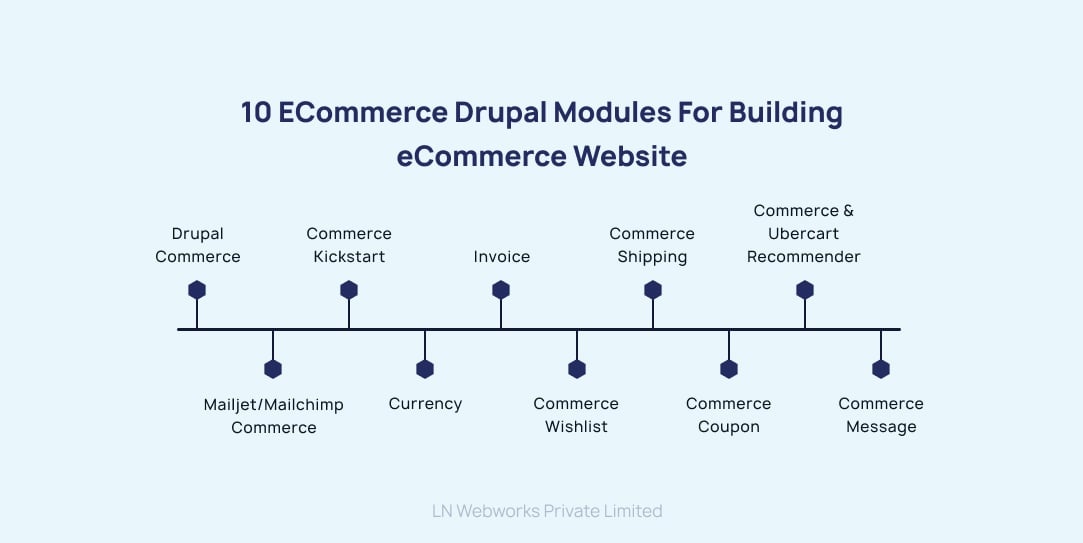 Drupal's evolution into a robust e-commerce site builder is driven by its exceptional features and an array of specialized modules. To harness the full potential of Drupal for e-commerce modules, read the blog post.
Note: The vision of this web portal is to help promote news and stories around the Drupal community and promote and celebrate the people and organizations in the community. We strive to create and distribute our content based on these content policy. If you see any omission/variation on this please let us know in the comments below and we will try to address the issue as best we can.