Migration from Drupal 7 Simplified as Acquia's Innovative Tool Goes FOSS
The Drupal ecosystem has welcomed an invaluable addition as Acquia open-sources its Acquia Migrate: Accelerate (AM:A) module. Designed to ease the often daunting task of migrating from Drupal 7 to Drupal 9, AM:A is now accessible to all users via its Drupal project page.
User-Friendly UI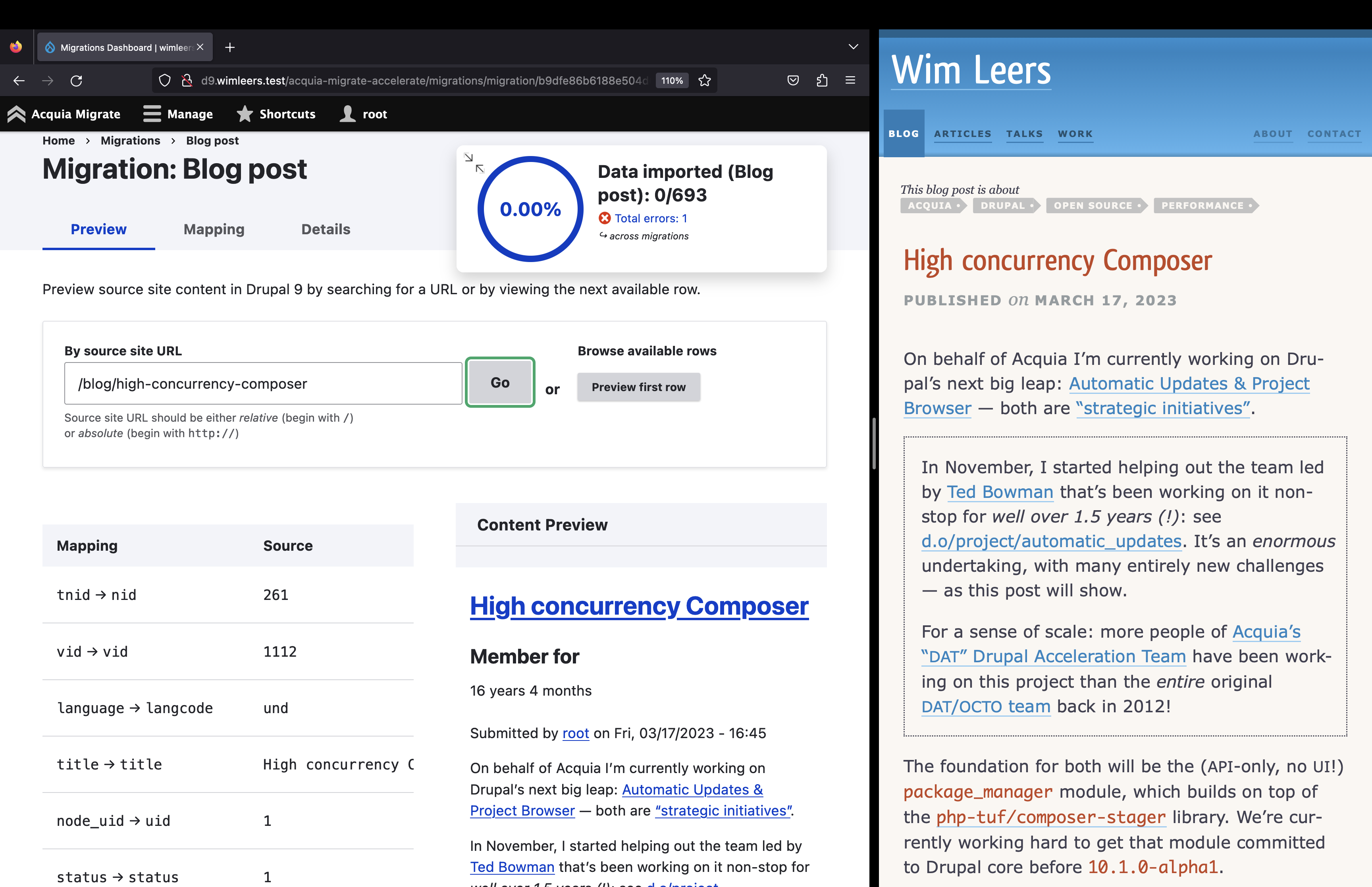 AM:A stands out with its streamlined UI, deliberately engineered to demystify the complex technical processes typically involved in migration. High-level concepts are prominently displayed on the dashboard, helping users understand dependencies among different elements of their site. Live previews and real-time updates offer a level of control and transparency previously unseen in Drupal migration tools.
The Power of Drush Command
For advanced users, AM:A offers the drush ama:import command, a CLI-based feature that operates more rapidly due to PHP's unlimited max_execution_time when run from the command line. It eliminates much of the overhead associated with the UI, allowing for quicker and more efficient migrations.
Module/Patch Recommendations
AM:A incorporates over 2500 migration recommendations, over 700 curated manually, and 280 tested and verified. This module aims to put any existing Drupal 7 site on the path of the strongest Drupal core support. It enables a better end-user experience and simplifies future Drupal upgrades.
Timely Open Source Release
The timing of the release has been strategic, coming approximately 1.5 years ahead of Drupal 7's End of Life in 2025. Despite business considerations, Acquia has remained committed to open-sourcing the tool, as evidenced by the Drupal project page created three years ago.
Who Is It For?
It's for all sites still on Drupal 7. The simpler the site, the more benefits AM:A brings, and the more time it saves. Drupal 7's long tail of relatively simple sites will significantly benefit, as they will likely have a 95–100% complete migration. More complex sites will mostly benefit from AM:A getting them to a great starting point: nearly all known migration best practices are encoded in AM:A's recommendations.
Hands-on Guide: Drupal 7 to Drupal 9 in an Hour Using AM:A
Wim Leers, one of the key contributors to this module, has created a detailed tutorial with a real-world example of how to use AM:A to migrate a website from Drupal 7 to Drupal 9 to showcase the module's capabilities.
Conclusion
Acquia's AM:A module is a great addition to the Drupal ecosystem. Now, the 350K Drupal websites still on Drupal 7 have a solid reason to migrate to Drupal 10, which empowers ambitious site builders to create the digital experiences essential for today's businesses.
Note: The vision of this web portal is to help promote news and stories around the Drupal community and promote and celebrate the people and organizations in the community. We strive to create and distribute our content based on these content policy. If you see any omission/variation on this please let us know in the comments below and we will try to address the issue as best we can.