5 Things You Should Look Forward About Drupal 10
Initially scheduled to release in June 2022, the Drupal 10 release date got postponed to December, pending some needed integrations. Dries announced the decision to push back the release in DrupalCon Portland 2022.
A major attraction in the upcoming release is upgrading the editor to CKEditor 5. With its vastly improved authoring experience and an array of plug-ins, this upgrade is much-awaited as it is already available in other environments, such as node.js. There is more work to be done on integrating it with the Drupal 10, which has caused the delay from the planned release date.
Saying all this, let's try to look at the five new things that one can expect with the Drupal 10.
What's New with Drupal 10
Olivero
It is Drupal's new front-end theme (replacing Bartik). The experimental theme added to Drupal core is now stable and has been made the default.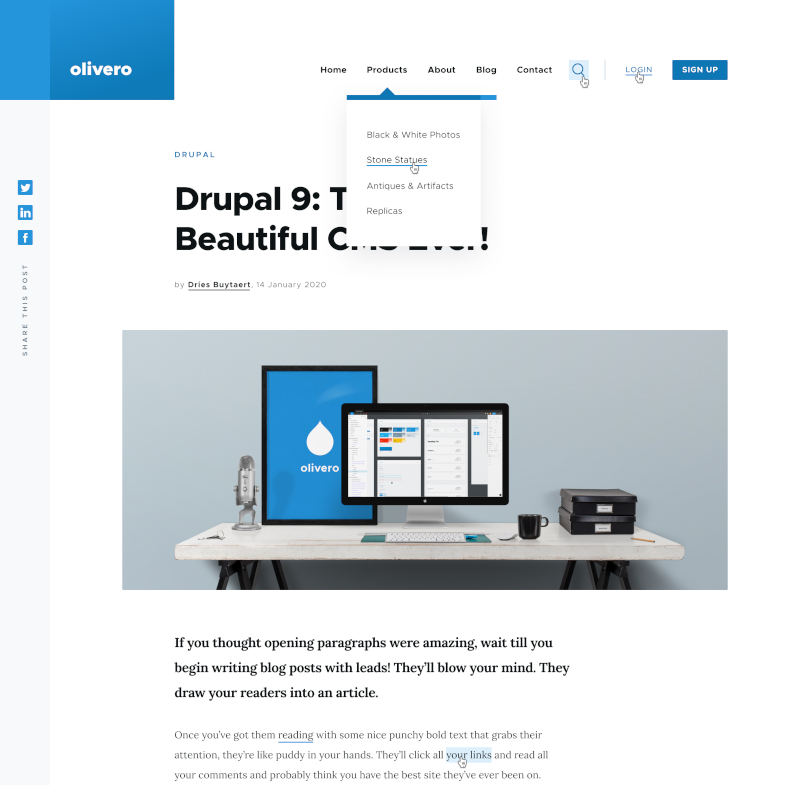 Why Olivero?
Updated modern design:
Olivero is a theme that feels more modern and stylish.
A thought out has been done for the design elements such as typography, animation and colour palettes, while it uses drop shadows and gradients sparingly.
Supports new features:
Olivero can support recent Drupal functionality such as second-level navigation, embedded media, layout builder, and more.
WCAG AA Conformance:
Olivero will be WCAG AA conformant.
Claro
It is Drupal's new backend theme replacing Seven. Touted as the new default administration theme, Claro is stable and ready to roll out in the production environment. It is a clean, accessible and powerful administration theme in Drupal Core.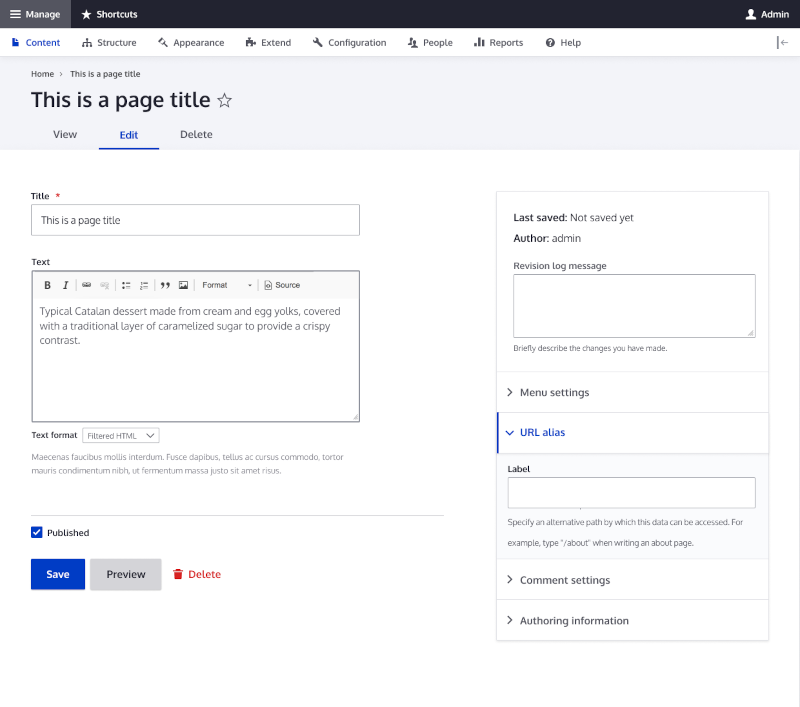 Starterkit
Starterkit is a new custom theme creation process and base theme to replace Classy in Drupal 10. It provides a new way of theming for Drupal. Currently, it's in alpha but is on track to be stable for Drupal 10.
Why Starterkit?
While creating a theme for Drupal 8 or 9, the best practice was to subtheme the Classy core theme to ensure common CSS classes and the usual markup needed. Thus it was imperative to call the Classy theme at runtime regardless of whichever custom theme you were using.
This dependency hindered the code updates on the Classy theme as any update would break backwards compatibility. As a result, Since Drupal 8.0.0, Classy has not been receiving updates.
Starterkit can help to solve this problem.
CKEditor5
CKEditor5 will look a lot more like Microsoft Word or Google Docs. It makes Drupal content creation future-ready and has a vastly improved authoring experience. One of the significant improvements in CKEditor5 is a new contextual balloon. It allows editing content inline in the editor without having to enter a model dialogue that would interrupt the content creation flow of content creators.
The Drupal media integration has been rebuilt from scratch to match the CKEditor5 user experience. All embedded media settings can now be edited inline in the editor. A user can directly upload images by dragging and dropping them to CKEditor5. Any changes to the embedded media can be seen in the preview immediately.
Automatic Updates
Automatic but safe update of the core and the contributed modules is the ultimate goal of this initiative. It is meant to make the upgrade process a lot easier. Automatic updates were one of the most requested features from site builders, according to Driesnote on the last Drupal product survey.
This initiative is not only providing updates to Drupal core but also introducing the package manager. The API will support composer operations. It will also be used by the project browser and hopefully other innovative contrib modules because the composer has been a pain point for many site builders.
Key Takeaways
Drupal 10 will be released in December 2022, with a pushback of 6 months from the scheduled release date. As discussed, some new features expected in Drupal 10 take our excitement to another level. Undoubtedly, these features can enhance Drupal's significant influence on the future of the web as it is used by 1 out of 30 websites worldwide.
References 
Note: The vision of this web portal is to help promote news and stories around the Drupal community and promote and celebrate the people and organizations in the community. We strive to create and distribute our content based on these content policy. If you see any omission/variation on this please let us know in the comments below and we will try to address the issue as best we can.