Exploring the Path of a Drupal Maven: Insights from Bakul Ahluwalia
Bakul Ahluwalia, a dynamic Software Development Manager, currently serves at Adcetera, where his profound love for Drupal has been the catalyst behind an illustrious career and dedicated volunteer efforts. Bakul's unwavering passion for this powerful open-source platform has driven him to attain a deep level of Drupal expertise, earning him four coveted Acquia certifications that validate his mastery of the system.
In this exclusive interview, Kazima Abbas, Sub-editor at TheDropTimes (TDT), candidly converses with Bakul Ahluwalia, delving into his responsibilities and influential role as an Organizer of DrupalCon Pittsburgh 2023. Additionally, Bakul opens up about the various initiatives and programs he champions within the Drupal community, exemplifying his dedication to giving back and driving positive change.
"I was initially drawn to Drupal because of its resourcefulness and ability to bring web applications to market quickly," says Bakul.
Join us as we gain insights into Bakul Ahluwalia's remarkable journey, the invaluable impact of his contributions, and his vision for a stronger, more interconnected Drupal community.
TDT [1]: How would you describe your journey with Drupal? When did you start working/learning with Drupal, and what motivated you to pursue it?
Bakul Ahluwalia: My journey with Drupal has been an ongoing process of growth and learning. I started working with Drupal in 2012, specifically with version 7. I was initially drawn to Drupal because of its resourcefulness and ability to bring web applications to market quickly. The built-in features like user management and taxonomies allowed me to rapidly develop robust applications. This motivated me to dive deeper into Drupal and continue exploring its capabilities.
TDT [2]: As a tech professional with a diverse skill set, which technologies or programming languages do you find most valuable in your day-to-day work? How do you leverage these skills to design, troubleshoot, and optimise software solutions?
Bakul Ahluwalia: As a tech professional, I find Drupal development a core aspect of my day-to-day work. I also work with AEM projects, which I have been supporting for the past three years. When designing, troubleshooting, and optimising software solutions, I leverage a range of technologies and programming languages. Alongside Drupal, I utilise various tools such as Lando, Github, VS Code, Xdebug, JIRA and Confluence. These tools enable me to keep projects on track, streamline development processes, and ensure efficient and effective solutions.
TDT [3]:Could you tell us about any recent major project or significant contribution you have made to the Drupal Community? How did it impact your career or the Drupal ecosystem?
Bakul Ahluwalia: I recently contributed to the Drupal Community by volunteering for the marketing committee during DrupalCon Pittsburgh and Portland. Leveraging my technical knowledge, I created content to promote Drupal and raise awareness about its capabilities. This experience in contributing to the Drupal ecosystem by helping to expand its reach and visibility gave me valuable insights into the mindset of marketers. It helped me grow professionally. 
I also consider myself fortunate to be part of the "Project Browser" initiative. One of my most significant contributions there was when we discovered that the "Package Manager" could be utilised not only to automate Drupal upgrades but also to facilitate module installations. I find it fascinating that there are numerous avenues through which one can contribute to the Drupal community.
TDT [4]: What were your responsibilities as an organiser and committee member of DrupalCon Pittsburgh 2023? How did you contribute to the success of the event?
Bakul Ahluwalia: As an organiser and committee member of DrupalCon Pittsburgh 2023, my responsibilities included generating content to promote the event and encourage participation. It was a collaborative effort where we shared ideas and worked together to improve the quality of our work. The success of the event was measured by its attendance, which was substantial. I attribute this success to the hard work and dedication of all the volunteers, as well as the support of the Drupal Association. It was a team effort that contributed to the overall success of DrupalCon 2023.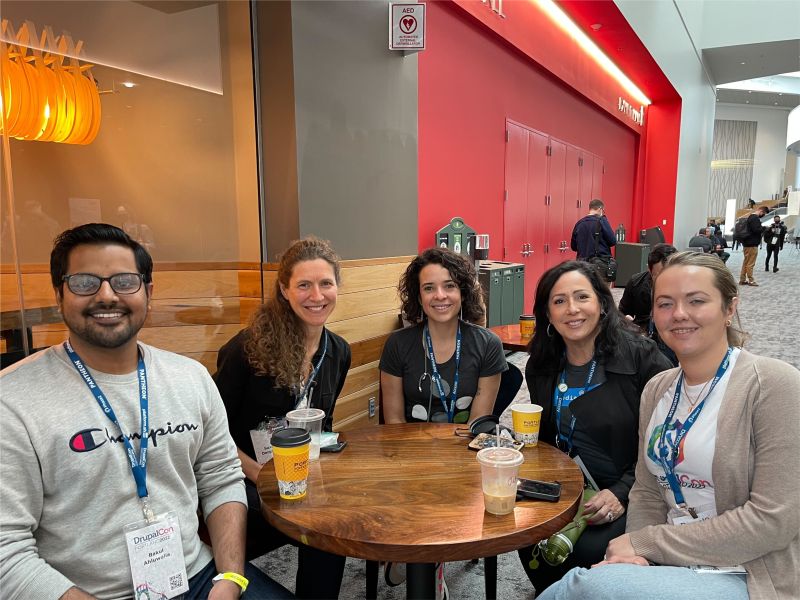 TDT [5]: What initiatives or programs are you currently involved in within the Drupal Community or your place of work? How do these initiatives align with your professional goals and values?
Bakul Ahluwalia: Currently, I am involved in two initiatives within the Drupal Community. First, I actively contribute to the "Promote Drupal" campaign by creating educational and technical Twitter posts. Second, I provide my developer insights for the rebranding and redesigning of Drupal's Download page. These initiatives align with my professional goals of promoting Drupal's capabilities and strengthening its community. They also reflect my values of contributing to open-source software and helping clients by ensuring stable and reliable features.
TDT [6]: As a professional with over ten years of experience in software development, what motto or guiding principles do you abide by in your work? How have these principles shaped your approach to projects and team management?
Bakul Ahluwalia: In my work, I abide by the motto of "accountability, respect, and a commitment to quality." These guiding principles shape my approach to projects and team management. I prioritise accountability by taking ownership of my work and delivering on commitments. Respect is fundamental to fostering warm and collaborative relationships within the team. Lastly, a commitment to quality ensures that I consistently deliver high-standard solutions and services to our clients. These principles have proven effective in driving successful outcomes and maintaining a positive work environment.
TDT [7]: Reflecting on DrupalCon Pittsburgh 2023, how do you think the event turned out? Were there any highlights, challenges, or key takeaways you want to share?
Bakul Ahluwalia: DrupalCon Pittsburgh 2023 was a tremendous success for the Drupal Community. Notable highlights included the inspiring keynote by Dries, news on Single Directory Components in Core, updates on significant initiatives reaching their final stages, such as Auto-updates, and the Project Browser. While there were no major challenges, some session rooms struggled to accommodate all attendees comfortably due to space limitations. Overall, the event was highly recommended, as it catered to a wide range of industries and provided valuable insights and opportunities for everyone. Attending DrupalCon Pittsburgh 2023 was definitely worthwhile. I want to highlight the fact that the event is not just focused on developers but also on ambitious authors, editors, and a variety of other users who interact with Drupal worldwide.
TDT [8]: How do you effectively communicate and collaborate with your cross-functional team at Adcetera as the Manager of Software Development?
Bakul Ahluwalia: As the Manager of Software Development at Adcetera, effective communication and collaboration within our cross-functional teams are crucial. We prioritise communication by involving members from the design, UX, and content teams regularly. We can avoid timeline and budget issues by gathering insights from various perspectives beforehand. For example, when project launch dates are tight, we collaborate with the UX and design teams to ensure consistency in components that can be shared across multiple pages.
TDT [9]: Can you share an example of how you have applied Agile methodologies to a software development project and how it contributed to the project's success?
Bakul Ahluwalia: Agile methodologies are central to our software development projects at Adcetera, where we routinely leverage tools such as Atlassian Jira and Confluence to facilitate Agile practices and ensure project success. 
Primarily, we actively apply Agile principles by involving clients at each stage of project development. For example, in one recent project, after our client approved a current backlog, we encouraged them to participate in sprint planning and sprint demo as we moved forward. This enabled a more efficient process as we worked together, making changes on an ongoing basis and allowing clients to adjust requirements incrementally. 
We also asked the client to consolidate notes, such as design updates, API details, etc., for future sprints so we could avoid delays and receive valuable feedback on a timely basis.
TDT [10]: As an Acquia Triple Certified Drupal Expert, could you tell us about the benefits of earning this certification? How has it helped you in your career as a Drupal professional?
Bakul Ahluwalia: Earning the Acquia Triple Certified Drupal Expert certification offers numerous benefits. It enhances your knowledge across various aspects of Drupal, including site building, as well as front-end and back-end development. This certification builds your credibility as a professional and validates your skills, elevating your professional reputation. It also provides a competitive advantage in the job market, increasing your opportunities for Drupal-related roles and opening doors to a wider range of career prospects, such as developer, architect, and consultant positions. 
Additionally, the certification facilitates networking within the Drupal community and potentially grants access to Acquia's partner program for additional benefits. I would like to highlight that along with the Acquia Triple certification, other certificates like DXP demonstrate a dedication to delivering excellence at all levels to serve customer needs across the board.
Note: The vision of this web portal is to help promote news and stories around the Drupal community and promote and celebrate the people and organizations in the community. We strive to create and distribute our content based on these content policy. If you see any omission/variation on this please let us know in the comments below and we will try to address the issue as best we can.