Giving to Drupal sans Coding: Interview with Pierina Wetto
Pierina Wetto, the Marketing Manager at Last Call Media, did not make her way into the Drupal community with her tech savviness; instead, in her own words, it was a series of unanticipated funny, weird spins in life that brought her close to the Drupal ecosystem. Initially sceptical, she later found her way into the Drupal community, focusing on community management and supporting developers in their contributions to Drupal.
"I would love for this interview to serve as a call to action for marketers, designers, and professionals in the communications field within the community."
remarked Pierina Wetto during her interview with Alethia Rose Braganza, former sub-editor at TheDropTimes (TDT). Pierina Wetto converses about her unforeseen Drupal journey and her involvement with the Promote Drupal initiative, where she is committed to producing content and marketing efforts to promote Drupal outside of the community. Pierina mentions her marketing career and shares the knowledge she has. She also briefly discusses community development and project management insights in the digital age.
"I want to emphasise that you don't need to be a developer to contribute to the Drupal community. There is immense value in joining and collaborating with marketers and sales managers with years of community experience."
If you are someone to enjoy this conversation, follow through below.
TDT [1]: I'm sure many people would want to know about your journey with Drupal. How did it start, and how did you come to learn about Drupal? When did you first start venturing into Drupal?
Pierina: Well, I'm not a developer. I do not have a technical background. The first time I heard of Drupal was when I was working for the Government in Argentina. We were using Drupal as the CMS for our website. That is all I knew. I didn't necessarily associate Drupal with anything more than that.
Then, funny enough, life and its weird spins right after that position, I decided I wanted a fully remote job. So, I started looking for opportunities outside my country in the international job market. My first opportunity was with a Drupal agency called Axelerant in India. They were looking for this Unique position of community management, PR, and employee engagement. It was a lot about helping the team find ways to contribute to Drupal so I could get to know our developers and see the best initiatives for them to contribute. That was my first dive into the community aspect of Drupal. I started attending virtual Drupal events like DrupalCon and smaller camps. It was almost like a crash course into the Drupal community. I met prominent community members like AmyJune Hineline, Baddý Sonja Breidert, Tim Lehnen, and Gábor Hojtsy, who were all super friendly and welcoming. That's how it all started for me.
TDT [2]: Tell us about your current work and Drupal role.
Pierina: My most considerable involvement is within the Promote Drupal initiative. This initiative started long before I joined the community, around 2019 or 2018. The mission is to produce content and marketing efforts to promote Drupal outside of the Drupal community.
It's a group of volunteers with a mission to produce content and marketing efforts to promote Drupal outside a Drupal Community. Let's say you're an IT leader, a business owner or a marketing director, and you are analysing and searching for a CMS to adopt for your business. Then you'll probably do some research, and the goal for the Promote Drupal initiative is to produce content that people doing these evaluations would find and help them decide if Drupal is the right fit for their business.
We aim to help those evaluating which CMS to adopt for their business by providing content that helps them decide if Drupal is the right fit for them.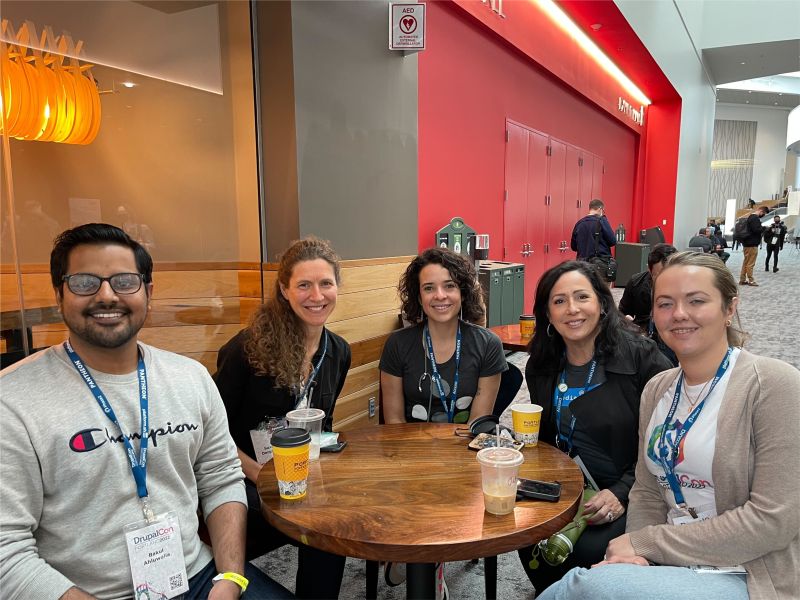 In the first round, there were brand guidelines that were developed, and a pitch deck was supposed to be the tool to help the community promote Drupal as a product. Specifically, I am part of the Evaluators Committee, where we focus on improving Drupal.org, the official website. We have been working on improving navigation, content, and design through usability tests, user research, and brand discovery workshops.
I want to emphasise the 'we' here. As a project manager for the group, my role is to enable and support the team members, who are talented marketers, brand specialists, and salespeople, to do their work effectively. I ensure everyone has the tools they need to do their job. The team deserves a huge shout-out. They've been consistently meeting and working for over a year now. The pace might be a bit slow for now as all of us are volunteers also working full-time jobs. We have a bit of a limitation with the budget. But despite the obstacles, the feat we have achieved with commitment and consistency never fails to impress me.
TDT [3]: The Promote Drupal initiative is essential to the community. You have also volunteered at various Drupal events, such as Design4Drupal and the Drupal 10 release party. Can you elaborate on other community events you have engaged in?
Pierina: I have had the opportunity to make several community contributions to the Drupal ecosystem. For instance, I volunteered as a session moderator during DrupalCon Europe 2021. As the event was held virtually, I would join the session a few minutes before it started to ensure the speaker had everything they needed, including slides and sound checks.
Additionally, I have volunteered with the event organising group to learn their best practices and apply them to the Buenos Aires Community, where we organised webinars and an accessibility virtual event, along with a Drupal 10 launch party. It was a pleasure to bring some of those networking and community-building experiences from the international Drupal community to my local community in Buenos Aires. Through these initiatives, I had the opportunity to connect with Drupal enthusiasts in Buenos Aires and foster a more localised sense of community.
Furthermore, I have reached out to communities such as Drupal4Boston and Drupal GovCon, offering speakers and expertise. Both had monthly webinar series, and I would suggest our subject matter experts as speakers, contributing to the broader Drupal community.
While this may have had marketing motivations behind it, as I aimed to promote the agency I worked for back then, these contributions facilitated knowledge sharing. These were free events anyone could attend, so it's a win-win.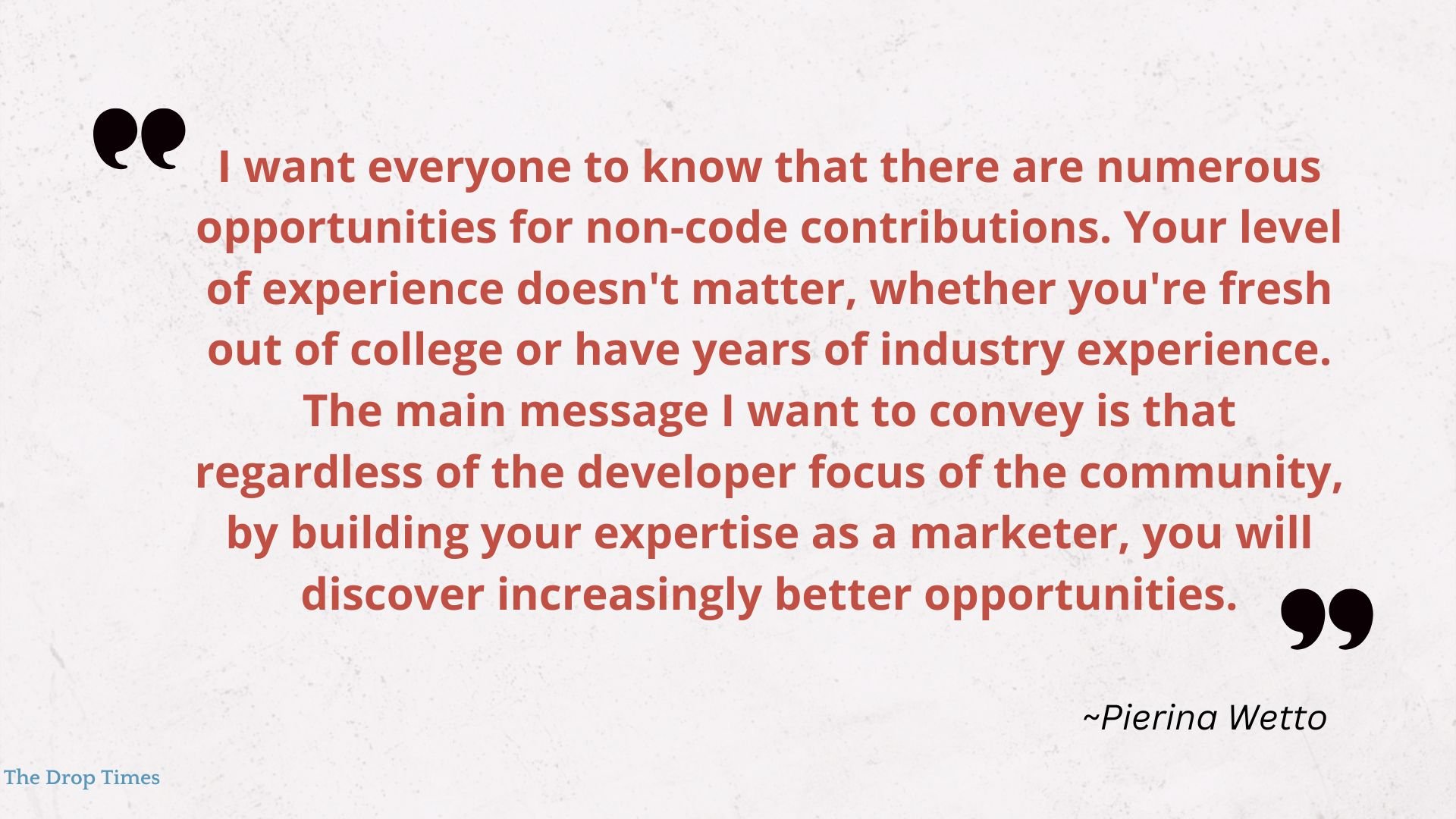 TDT [4]: Have you ever considered being a speaker at DrupalCons or Drupal Camps? Do you have any aspirations or desire to share your speaking expertise? If you were to speak, what topics would you be interested in gravitating towards?
Pierina: Speaking is an incredible opportunity for professionals to build thought leadership, expand their network, and enhance their learning because when you teach something, you learn it better.
I have personally submitted a session for DrupalCon Pittsburgh, and although it wasn't selected, I still took the leap and embraced the experience. The session I proposed focused on leveraging storytelling to build a personal brand within the community. My proposal aimed to provide tools and skills to overcome imposter syndrome and encourage participation, thereby addressing the challenge of community members lacking confidence in sharing the knowledge they possess.
Another topic I am passionate about is the role of marketers in Drupal agencies, particularly in the business-to-business marketing context. Selling Drupal projects to government institutions and universities involves navigating complex sales cycles and establishing long-term relationships.
The marketing and sales processes for selling Drupal projects are much longer and more complex; they require building relationships. It requires thought leadership and an understanding of the unique dynamics of the industry. Sharing insights on successful marketing strategies for Drupal agencies would empower other marketers in the community.
Notable examples of marketers already contributing in this space include Rosie Gladden from ImageX and Jessie Golombiecki from Mediacurrent, who presented sessions on marketing Drupal at recent Drupal events. I would love to give my two cents on that topic, like B2B marketing, especially for selling Drupal group projects.
In summary, I firmly believe that sharing knowledge and experiences in topics like B2B marketing for Drupal can benefit the entire community. By collaborating and supporting each other, we can drive the success of Drupal as a product and create more opportunities for all.
TDT [5]: Marketing is a rapidly growing career field encompassing various sectors and subsectors. Drawing from your experience, what advice would you offer to someone looking to embark on a career, particularly in strategic communications and public relations (PR)?
Pierina: The path to a successful marketing career can vary widely depending on your specialisation and industry. Whether you're in B2B or B2C marketing, selling services, or marketing products, there's one overarching piece of advice that holds true: invest in your thought leadership.
This principle applies to marketing professionals at all stages of their careers. Even if you're just starting and feel you lack experience, there's always knowledge to acquire and share publicly. Sharing your learning process, failures, and successes through your digital presence can be more valuable than mere personal branding.
Building a strong digital presence over time allows you to connect with a trusting audience. When you eventually need to market something, whether it's books one day or shoes the next, this established rapport will serve as a communication channel, ensuring people trust your recommendations. These cultivated relationships can also prove invaluable in unexpected ways, such as finding willing volunteers for research projects or other professional endeavours.
TDT [6]: Apart from having a social presence, which you mentioned is essential for making a mark in the marketing industry, are there any other skills that you think people in this career should develop for themselves?
Pierina: Right, so having a social media presence is one way. Another can be starting a newsletter or blog and actively engaging in relevant communities like the Drupal Community. Simultaneously pursuing these strategies allows for mutual growth and learning.
While staying updated within your industry is essential, I've found that exploring unrelated fields can lead to innovation. By delving into diverse topics like biology, poetry, or engineering, you can gain fresh perspectives and discover innovative ideas that can be applied creatively to your marketing endeavours. The interconnectedness of knowledge often leads to breakthroughs in marketing strategies.
Being curious and willing to learn from various topics is especially crucial if you work in communications, which ultimately revolves around understanding humans.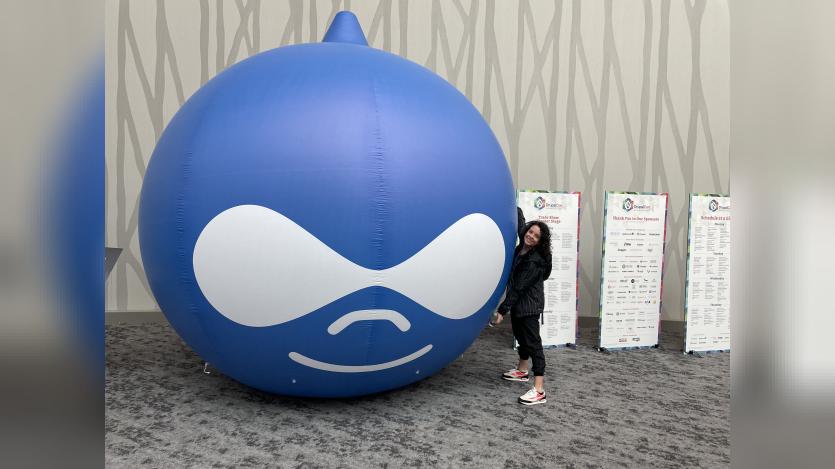 TDT [7]: In the digital age, as we've discussed, there is abundant information and various sectors, accompanied by numerous communication and engagement channels. Social media, in particular, significantly impacts building and damaging brands. How would you approach developing digital strategies, specifically regarding social media, content marketing, and influencer partnerships? With so much to consider, how would you create a comprehensive plan, particularly within your role at Last Call Media? How does your team spearhead the process to establish a clear direction?
Pierina: In exploring marketing strategies, I've discovered the significance of systems thinking and aligning individual perspectives with a company's identity. This involves understanding the unique DNA, culture, and value proposition of your business. Once this foundation is established, it becomes the guiding North Star, helping navigate through the constant influx of new trends and platforms.
When evaluating these trends, it's essential to assess their relevance to your company's identity and industry. For instance, in B2B marketing, investing in events may be more effective than Instagram for building relationships with decision-makers. Measuring results is critical, allowing for informed decisions and continuous learning in the dynamic world of marketing.
TDT [8]: You mentioned in your profile, "I strive to balance team processes and individual creativity", which is reflected in your approach at Last Call Media. This leads us to the final question: Can you describe how you balance these aspects and ensure they are adequately addressed throughout a project life cycle? How do you ensure that both individual creativity and the need for team processes are effectively incorporated into projects?
Pierina: In an ideal world, balancing team processes and individual creativity is crucial, but in day-to-day project management, it depends on various factors.
To nurture creativity within a team, providing adequate context is crucial. Leadership needs to recognise the time required for tasks, even seemingly straightforward ones like repurposing a video for a blog post. This contextual understanding empowers team members to perform at their best.
When it comes to fostering creativity, several effective techniques are at our disposal. With the rise of remote work, tools like Miro and collaborative workshops have become invaluable. These platforms facilitate shared brainstorming and idea-sharing, anonymously or openly, effectively balancing individual creativity. Additionally, techniques borrowed from design and lateral thinking, such as retrospectives and collaborative brainstorming sessions with structured frameworks, can prove highly effective. Finally, integrating traditional project management practices ensures everyone on the team has the necessary context and information to contribute effectively to the creative process.
Finding the right balance between team processes and individual creativity involves providing context, utilising collaborative techniques, and adhering to project management principles.
Note: The vision of this web portal is to help promote news and stories around the Drupal community and promote and celebrate the people and organizations in the community. We strive to create and distribute our content based on these content policy. If you see any omission/variation on this please let us know in the comments below and we will try to address the issue as best we can.