Reliving Q4 2022: Tim Lehnen Reminisces Work Done on Drupal
How was Q4 of 2022 for Drupal? What were the achievements? Drupal Association CTO Tim Hestenet Lehnen throws light on the work done in Drupal Association's blog and requests us to read the roadmap to understand how this work falls into priorities set by the Drupal Association with direction and collaboration from the Board and community. He also hints to review the Drupal project roadmap. Here we summarize Tim's blog entry. 
Release of Drupal 10
Drupal 10 was released on 14 December 2022 with upgrades to both the front-end and back-end design, with the Olivero front-end theme and the Olivero admin theme now default. The WYSIWYG editor has been updated to CKEditor 5, with significant improvements to in-place editing controls and great pluggability. 
Drupal 10 celebrations
Drupal 10 launch party celebrations world wide was another example of the tight knit Drupal community.
The Drupal Association encouraged the community to submit their launch parties on Drupal.org/community/events.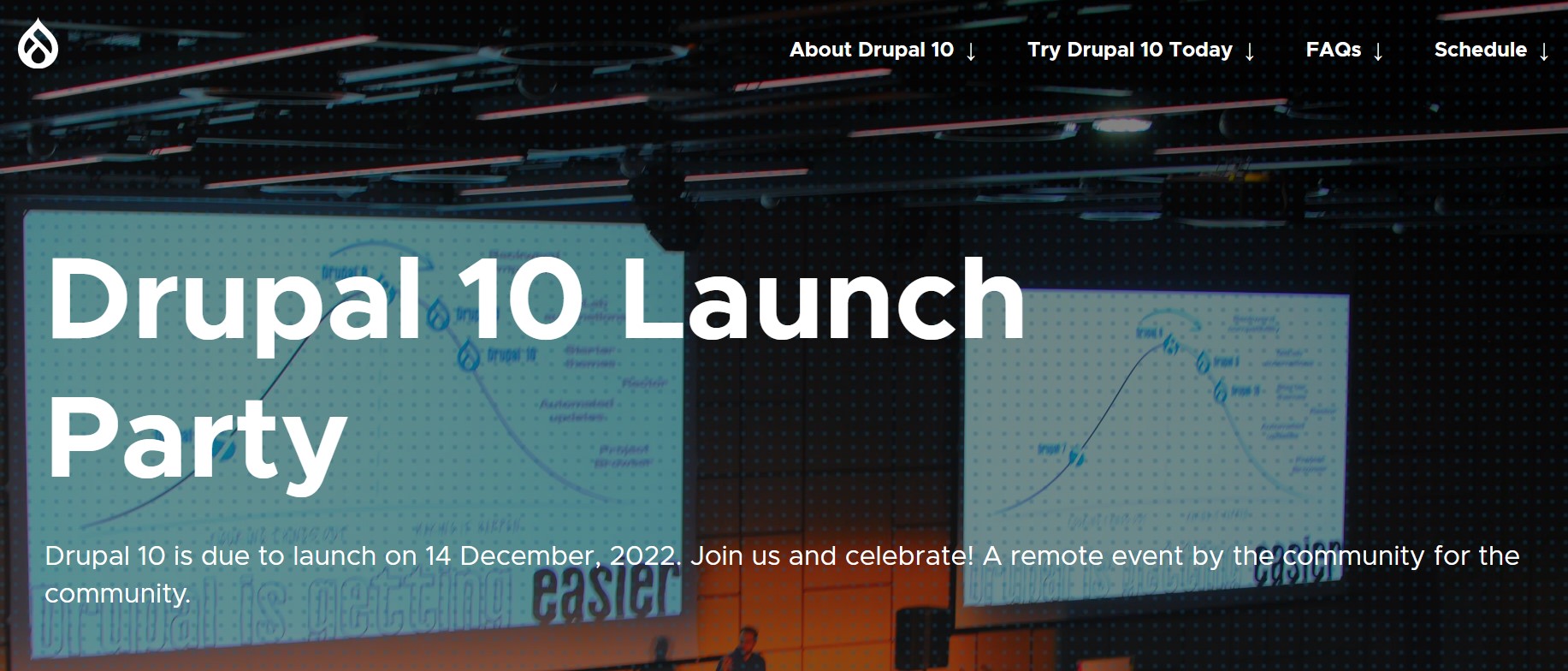 Release Support operations
The Drupal.org Blog expresses about Release Support operations.  The Drupal Association engineering team is on call during major release windows as per Drupal.org - Q4 2022:
Support the release managers with any infrastructure needs
Add new testing environments for versions of php, or database versions. 
Help recruit support for any last minute issues needing resolution
Act as liaison between core maintainers and the DA marketing team. 
Drupal.Org Updates
Drupal.org properties have Drupal 9 upgrades in pre-production, including: 
api.drupal.org
events.drupal.org
localize.drupal.org
portions of www.drupal.org 
And with Drupal 10's release they are running upgrade tests to ensure its readiness.
Along with the launch came about several beneficial updates to the CMS. GitLab Acceleration, D9/10 updates, infrastructure improvements, history of communities and events being exportable , organization profiles now show events sponsored as well as individual profiles now show events organized. If you want to learn about the updates in-depth, refer to the Drupal.Org Blog
Drupal.org infrastructure improvements
The Drupal Community is In preparation for deploying D9/D10 upgrades have made major investments in Drupal.org infrastructure. This ensure the Drupal.org as performant, scalable, and secure for community of innovators that build Drupal. They send their Gratitude to their partners at Tag1.
Organization Profiles now show Events and Sponsored Individual Profiles now show Events Organized
Another feature to add on about is that any organization listed as a sponsor on an event, will now have that sponsorship reflected on their drupal.org profile. As well as Individual user profiles now also will be able to aggregate data from any community/events they have been listed as being a part of, whether they are an organizer, code of conduct contact, speaker, or volunteer. 
GitLab Acceleration 
More user data managed directly in GitLab
Some key user information has been migrated to. This was another addition to  new features in Gitlab.
Multiple email address handling from Drupal.org user profiles were migrated to GitLab profiles.This enable users tp configure additional emails for git config, and manage notifications from GitLab. 
This kind of data migration is part of dotting all  i's and crossing all  t's in ensuring we're ready to cut over more features to GitLab.
Drupal.org pronoun field synced to GitLab Profile
A new feature has been added to  GitLab api. They have now synced the Drupal.Org pronoun field to Gitlab The aim for such an update was to create a respectful space among the diverse groups.
The Drupal Association appreciates all the volunteers who work with them and the Drupal Association Supporters who help fund. 
Note: The vision of this web portal is to help promote news and stories around the Drupal community and promote and celebrate the people and organizations in the community. We strive to create and distribute our content based on these content policy. If you see any omission/variation on this please let us know in the comments below and we will try to address the issue as best we can.
Organizations Related to the Story