Top Drupal 9 Modules to Build and Maintain Web Communities
After the pandemic, businesses and institutions have been eager to adopt and shift to the new era of digitalization. Whether you aim to set up an eCommerce store or build a call-to-action website, content management systems like Drupal can support any business framework from start to end. With this it is also important to build a community that is unique to your company. A community will help you promote meaningful engagement with your target audience and maximize the performance of your business. The best examples of how communities help grow business are brands like Starbucks, Harley Davidson, Lego and more.
In this article we will list down the top Drupal 9 Modules that will help you build and maintain your web community.
1. Open Social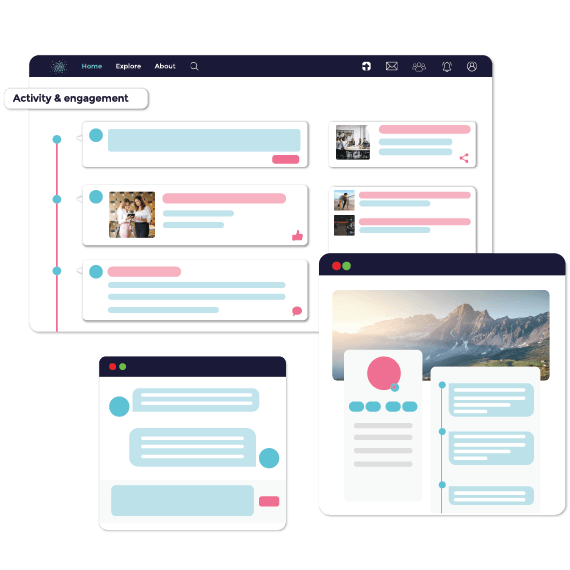 Open Social is a Community engagement platform that offers multiple extensions like Real Time Chat, Webinar, Forms and Surveys, Resource Library and more. Open social is available as a Drupal 9 Distribution. It is also available as a Software-as-a-Service. This includes hosting, support, frequent feature updates and easy access to all Open Social extensions.
Documentation: Open Social 8.x
For More Details: https://www.drupal.org/project/social
2. Group
With this community module you can create arbitrary collections of content and users on your site and grant access control permissions on those collections. Group also allows you to create communities. Users of the site can become members of a Group. You get to decide what membership entitles the users to, for example they get access to content only available to members of that Group. You can set different levels of membership to a Group like allowing only administrative members to create content and basic members can only view content within the Group. This module is sponsored by Factorial GmbH.
Documentation: Group 8.x
For More Details: https://www.drupal.org/project/group
3. Profile
The Profile module enables you to configure user profiles and can be a useful module for building community websites where you want to showcase user profiles.. This Drupal 9 module provides separated permissions for multiple profile types, shows profile forms during user account registration, configures fields to be private and displays profile types on the user view page. The development and maintenance of this profile is supported by Centarro.
For More Details: https://www.drupal.org/project/profile
4. User Points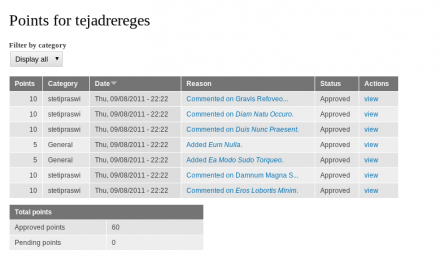 User Points provides a system for users to gain or lose points for performing certain actions on your site. This provides them with an incentive to participate in the site and be more active. You can use this with other modules like the Drupal Rules module, so that users can accumulate points for actions such as posting nodes, commenting or moderation duties. This module is in use by websites like Wall Street Oasis, Shark Scopers and Jamrie. The Drupal 8/9 version of this community module is supported by Arcovia Digital.
Documentation: User Points
For More Details: https://www.drupal.org/project/userpoints
5. Contact Block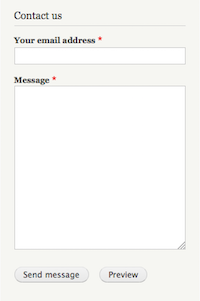 This module provides contact forms in a block. It uses contact forms created with the Drupal's core contact module. This community module is supported by the FFW Agency.
For More Details: https://www.drupal.org/project/contact_block
6. React Comments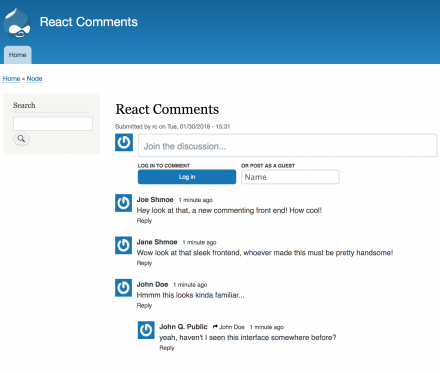 The React Comments module acts as a drop in replacement for the Drupal core comment module front end. Once you install this community module the comment fields will be replaced by an interactive React app that allows user actions like commenting, replying or editing without requiring a full page refresh or navigation away from the current page. This module enables you to administer comments directly from the front end. You can also have a clean UI, and other minor UX improvements such as reverse chronological sorting, explicit "reply to", and built in flagging. This module is entirely sponsored by Chapter Three.
For More Details: https://www.drupal.org/project/react_comments
7. Private Message
This module is a full-fledged, ajax private message system that allows private messages between users on a site. With this module you can set Ajax refresh time, load new messages without page reloads, arrange messages in ascending or descending order, add message forms, add users through autocomplete tagging system, set maximum number of users for a thread and so much more. DevBranch supported this community module for 8.x-2.x Bug Fixes and 3.x Development.
Documentation: Private Message 8.x
For More Details: https://www.drupal.org/project/private_message
8. Comment Notify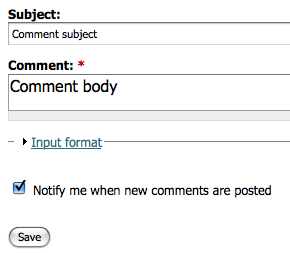 With this community module you can send notification emails to registered and anonymous users about new and published comments on pages where they have commented. It also allows users to unsubscribe from notifications on a specific post with a single click and registered users to preset their follow-up setting in their profile. Users can also choose to get notifications about all comments on a node or just replies to their comment. The ongoing maintenance of this Drupal 9 community module is supported by Agaric, whereas MD Systems have supported the Drupal 8 port.
Documentation: There is documentation in both the drupal.org handbook and in the INSTALL.txt file distributed with the module.
For More Details: https://www.drupal.org/project/comment_notify
9. Website Feedback
This module allows Drupal website owners to easily get feedback from their website users. The website feedback is sent along with a screenshot of the webpage from which the user submits the feedback. The users who have permission to submit user feedback can see a floating feedback button which will open a popup form to submit the feedback comments and also capture the screenshot of the current page. Every submission is created as a new entity which is made available in an admin listing page. There is a basic workflow feature that allows website administrators to mark the item as resolved. This Drupal 9 module is supported by Zyxware Technologies.
Documentation: Website Feedback
For More Details: https://www.drupal.org/project/website_feedback
10. Rocket Chat
Rocket.Chat is a Free Open Source Solution for team communications. The features of this community module include group messages, video calls, screen and file sharing, live-chat. It also provides webapp interface, cross-platform desktop client, iOS and Android mobile apps. 040lab is supporting the development of this module.
For More Details: https://www.drupal.org/project/rocket_chat
There are many more modules that can help you create and maintain a community on your Drupal website, but these modules are a must have. Which module are you currently using for your Drupal 9 website?
Note: This is a compilation of modules picked by our editorial team from drupal.org
Note: The vision of this web portal is to help promote news and stories around the Drupal community and promote and celebrate the people and organizations in the community. We strive to create and distribute our content based on these content policy. If you see any omission/variation on this please let us know in the comments below and we will try to address the issue as best we can.