Drupal 10 Preparation
As the date nears, some of us have it all mapped out. The day Drupal 10 was announced to this moment of anticipation, you are preparing by keeping yourself updated through twitter and local Drupal meetups. Yet, for those that are not on the same page, here is a brief timeline from the announcement of Drupal 10 till the launch day. Skim through if you wish to enlighten yourself about the Drupal community, Drupal 10 launch dates and anticipated new features and Driesnotes.
Drupal 10 Launch Party
Drupal10party has put out a Drupal 10 launch countdown tracker! Join the Drupal Community and track the Drupal 10 launch.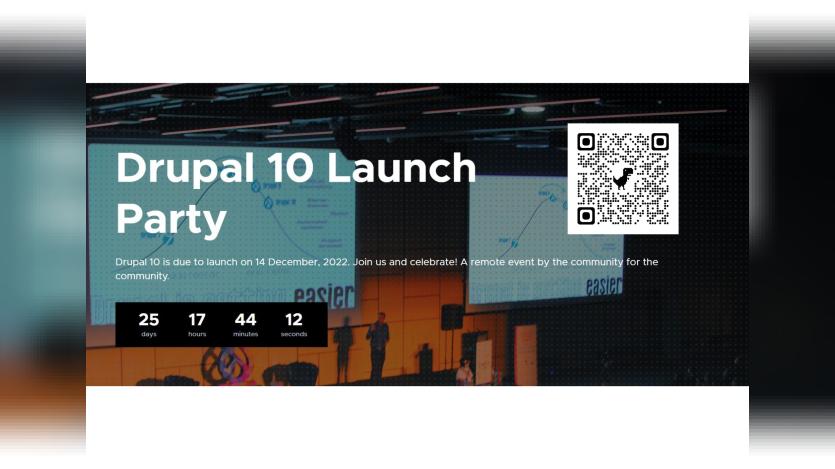 Barcelona Drupal group Local Meetup.
There will be a local Drupal in-person meet up on 15 December in Barcelona By the Barcelona Drupal group, to take advantage of the release of Drupal 10 . This will be their first meet up after the pandemic.
The venue will be the Sagrades Tannines bar and there is no agenda other than catching up. No need to register, just show up and say hello!
Acabem de convocar la primera trobada informal a Barcelona des de 2019 per cel·lebrar el llançament de Drupal 10! Acosteu-vos a saludar el proper 15 de desembre 👋https://t.co/8P6QAea66E

— Drupal.cat (@drupalcat) November 17, 2022
Drupal 10 release gathering by Drupal Austria
There will be an in-person gathering organized by Drupal-Austria for a Drupal 10 release gathering. RSVP via meetup on 14 December 2022 - 19:00 - 23:00. Drupal Austria Vienna meetups are regulary held since 2008 on the 2nd Wednesday of each month. 
Evolving web free webinar
On Wednesday, November 30, 2022 01:30-02:30 pm EST evolving web is conducting a free webinar on the topic "All you need to know about Drupal 10" This webinar will showcase the highlights of Drupal 10 that make it a particularly user-friendly experience, including the new admin interface, the enriched content editing experience with modern collaborative features and the out-of-the-box web accessibility features. 
Drupal 10 is on its way, so now is the best time to explore its exciting new features!

Join @suzanne_kennedy and @Dharizza and learn all about the latest version of Drupal and what they mean for teams managing Drupal sites

Register today! ➡️ https://t.co/4g9utmFf1R pic.twitter.com/t1WgpjyVef

— Evolving Web (@evolvingweb) November 18, 2022
50 individual contributors for #Drupal10
Acquia congratulated and appreciated the top 50 contributors that made Drupal 10 a success.
I made it to the top 50 individual contributors for #Drupal10 along with @chumillas @LauriEskola @mikeherchel @gaborhojtsy and all the other great minds on this list 💙🎉 #Drupal pic.twitter.com/0jaeH4OyzB

— Sascha Eggenberger (@saschaeggi) November 16, 2022
Whether a webinar, local meetup like the Waterloo Drupal Local Meetup to Welcome Drupal 10 release, or the Ned camp, the Drupal community will focus and dedicate time to talk about Drupal 10. The drop times engaged in an interview with Andy Blum , read what he has to say about Drupal 10.
TDT: [4] Everyone is waiting for the Drupal 10 release this December. What is the most exciting feature of Drupal 10 for you?

Andy Blum: The absolute best feature of Drupal 10, in my opinion, is that we've dropped support for Internet Explorer. In Drupal 10 and beyond, the only browsers we support will be those that continue to update their implementations of HTML, CSS, and JavaScript. 
Migrating to Drupal 10 Workshop
The Drupal Community hold great responsibility and this is reflected in the every attentive community.
Acquia Holds a Webinar on the Drupal 10 Launch
Acquia  works hand in hand with Drupal. Who better to kick off a webinar in honour of the launch. 
Drupal 10.0.0-beta1 is Now Available
Shortly after the Drupal 10 announcement the Drupal 10.0.0-beta1 was released on 17th September 2022 to test compatibility and upgrade paths for Drupal 10.0. This release is not intended for production. 
What is more exciting than Change? Which Drupal 10 Features Excite Dries? And Dries: Drupal is for Ambitious Site Builders
The launch of Drupal 10 comes with features that Drupal users must familiarise oneself with. What features are you most excited about? If you are not yet aware of them you can go through them and not forgetting the 5 Things You Should Look Forward About Drupal 10
Drupal 10, 11 and Dries.
Although the final announcement date was in September, The drupal community and Drupal founder Dries Buytaert commenced the year with Drupal 10 updates in his driesnote. With Drupal 10 being on track he felt it was time to plan for Drupal 11.
Drupal 10 to be Released on 14th December 2022 
The last few months have been nothing short of Drupal 10 preparation. Drupal. Org Blog post released the announcement of the Drupal 10 release on 8th September 2022. Preceding that, the community buckled up even more .
 
Note: The vision of this web portal is to help promote news and stories around the Drupal community and promote and celebrate the people and organizations in the community. We strive to create and distribute our content based on these content policy. If you see any omission/variation on this please let us know in the comments below and we will try to address the issue as best we can.