Celebrating Excellence: Women in Drupal Shines at DrupalCon Lille 2023
The Drupal community comes together at DrupalCon Lille 2023 to celebrate the outstanding contributions of women in the field. Three exceptional women are honored with the prestigious Women in Drupal Award 2023, recognizing their significant contributions to the Drupal ecosystem. The awardees are:
Tiffany Farriss: CEO of Palantir.net - Winner of the Define Category 
Marine Gandy: President of Drupal Association, France - Winner of the Build Category 
Lenny Moskalyk: Senior Project Manager at Cocomore - Winner of the Scale Category
These outstanding women have left an indelible mark on the Drupal community, and their dedication and accomplishments continue to inspire others in the field. Congratulations to the Women in Drupal Award 2023 winners!
The Women in Drupal Award, sponsored by FFW, aimed to promote inclusivity and welcome individuals across the gender spectrum. It serves as a tribute to women who have excelled in diverse aspects of Drupal, be it development, entrepreneurship, or community engagement. What makes this award unique is its inclusiveness; anyone nominated, regardless of their career stage, was eligible for consideration. The categories recognized remarkable talent in defining innovative Drupal projects, building the Drupal community, and scaling businesses and platforms within the Drupal ecosystem.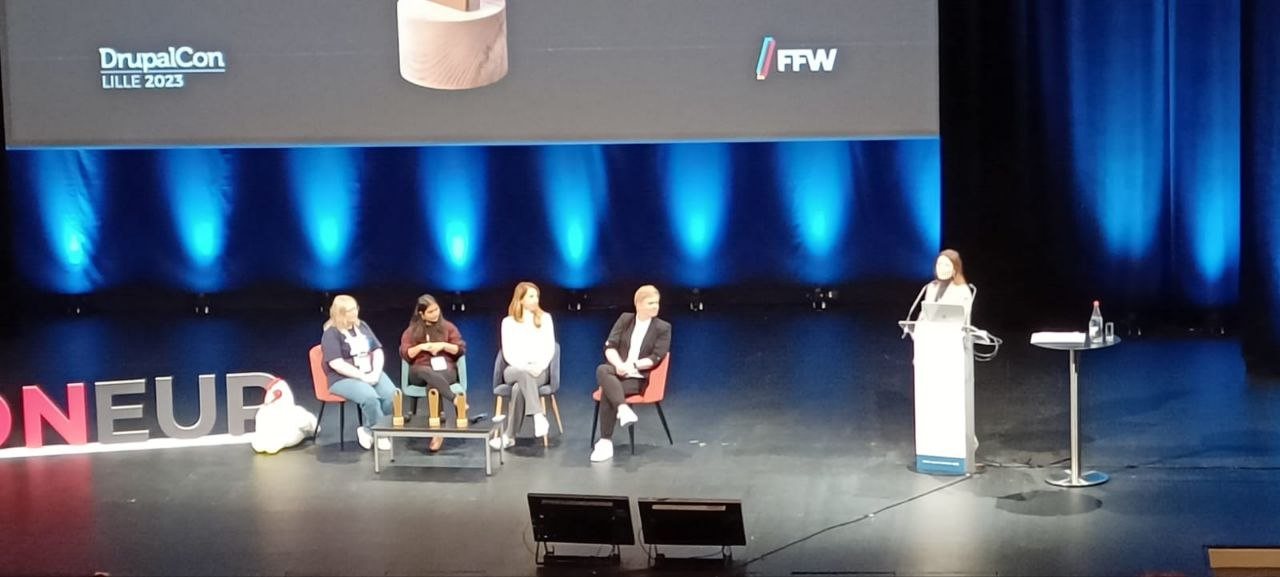 The winners, selected by a jury comprising members of the Drupal Association, last year's awardees, and representatives from FFW, include Cristina Chumillas, the Define category winner of 2022; Surabhi Gokte, who secured the Build category award in 2022; Stella Power, the Scale category winner in 2022 and CEO/Founder of Annertech. Along with Baddy Sonja Breidert, CEO and Co-Founder of 1xINTERNET & Board Chair at Drupal Association; and Kitt Ralkov, Head of HR & Experience at FFW Europe.
These remarkable women, along with the award recipients of the Women in Drupal Award 2023, have made substantial contributions to the Drupal community and set a powerful example for aspiring talents. The Drupal community is committed to fostering diversity and inclusivity, and the Women in Drupal Award is a testament to that dedication. 
Note: The vision of this web portal is to help promote news and stories around the Drupal community and promote and celebrate the people and organizations in the community. We strive to create and distribute our content based on these content policy. If you see any omission/variation on this please let us know in the comments below and we will try to address the issue as best we can.